Written by Ryan Dosier.
SLIMEY
Performed by…

Martin P. Robinson (1980-present)
Dick Maitland (voice)
Jerry Nelson (1978)
Michael Earl Davis (1978-1980)
First (known) appearance…
Sesame Street Season 2: Episode 0262 (1971)
Most recent appearance…
Sesame Street Season 44 (2013)

Best known role…
Oscar the Grouch's pet worm; astronaut; race car driver; soccer player

Family…
Oscar the Grouch (owner)
Dusty (father)
Eartha (mother)
Sloppy (sister)
Squirmy (cousin)
Rachel (cousin)
Dirty (pet bug)
WHO IS SLIMEY?

Slimey is a tiny worm who is Oscar the Grouch's many pets, but undoubtedly Oscar's favorite. Slimey lives with Oscar in his trash can and is one of the only creatures who can bring a smile to the Grouch's face. Slimey's first known appearance was in an early Season 2 episode of Sesame Street where Oscar enters him in a pet show. Slimey has continued to be a big part of Oscar's life, and Sesame Street, ever since.
According to a flashback on the show, Slimey and Oscar first met in the park on a rainy day. Oscar went to see mud puddles and found a mud puddle with worms playing in it. Oscar saw a baby worm playing by himself. The young worm crawled up Oscar's shoulder and fell asleep. Oscar took the worm home, named him Slimey, and a new friendship was born.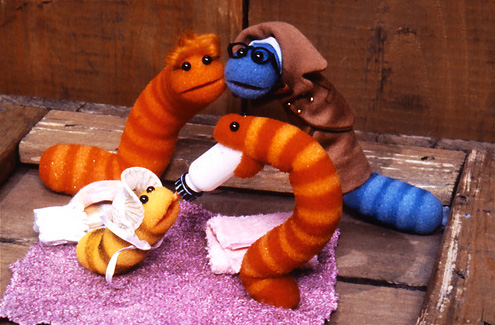 Slimey has quite an extensive family that has been part of the show, including his parents Dusty and Eartha, sister Sloppy, and cousins Squirmy and Rachel (the obvious black sheep of the family). Slimey has also been seen with a girlfriend named Glo Worm. Slimey even adopted his own pet, a bug named Dirty, in Episode 4175 in Season 39. Slimey's many worm friends have visited Sesame Street a lot over the years, as members of the WASA space program, worm soccer teams, and racers in the Squirmadega car race.
Oscar's little worm is also one of the only Muppets to travel to space. For a long arc of episodes in 1998, Slimey was recruited and trained by WASA, the Worm Air and Space Agency, for a mission to the moon with other worms from all over the world. The worms took off on the spaceship Wiggleprise and Tony Bennett even sang him to the stars with the song "Slimey to the Moon." After the launch, Slimey and the other worms starred in a recurring segment called "Worms in Space."
In recent seasons Slimey starred with Oscar in a recurring segment at the end of the show called "Trash Gordon," starring Gordon as the titular space cadet. In the segment, Oscar reads Slimey his favorite bedtime stories from the Trash Gordon series.
Slimey has been a prominent character for many years and in many episodes on Sesame Street and will be seen in Season 43 and Season 44.
WHY DOES SESAME STREET NEED SLIMEY?

Slimey is an interesting little worm. He has a family and friends and a pet, he has played soccer, raced cars, and even traveled to space. All of these things make him a truly amazing little fellow, but he is needed on Sesame Street because he makes Oscar the Grouch happy. Slimey is one of the only things that Oscar truly cares about. Slimey adds another dimension to Oscar, giving him feelings and cares. He may be one of the only worms to go to space, but it's on Earth and in Oscar's care that he truly makes a difference.
The Muppet Mindset by Ryan Dosier, muppetmindset@gmail.com