Kyle Mahoney – Muppet Classic Theater was a straight to VHS feature-length production released in 1994. In a similar vein to the previously released film The Muppet Christmas Carol, the Muppets are retelling classic stories. It takes place in the Muppet Theater where Gonzo and Rizzo once again become the narrators as the rest of the gang act the story on stage.
The six stories told are The Three Little Pigs, The Midas Touch, The Boy Who Cried Wolf, (followed by a brief intermission) then Rumpelstilskin, The Emperor's New Clothes, and The Elves and the Shoemaker. This production was significant in that it was one of Bill Barretta's first Muppet productions. This also was the debut of some Muppets Tonight faces: Andy Pig, Randy Pig, and the Elvises.
Kermit, Miss Piggy, Gonzo, Rizzo, Fozzie, and even Robin the Frog each take the stage, some in several roles, bringing their own flair and classic breaking the fourth wall into these timeless tales. Each story featured one original song by Philip Balsam, Dennis Lee (both of Fraggle Rock fame), Mark Radice, and Michael and Patricia Silversher.
Some of the best moments of the video include Miss Piggy sending the Big Bad Wolf into orbit via fireworks, Gonzo (as a Satyr) taking a nap in King Kermit's rose bush, and Norman the Ox thwarting another wolf. Other hilarious moments are Piggy finding out Rumplestiltskin's name by looking at the name his mother had sewn into his clothes, Robin revealing that Emperor Fozzie was scammed and is in his underpants, and lastly the Elvis Elves receiving Sequin Jumpsuits as thanks.
One of the writers, Jim Lewis, had this to say about the project:
"My personal favorite among my own projects is Muppet Classic Theater which I co-wrote with Bill Prady. It was done relatively soon after Jim's passing, and it was in many ways a re-gathering of the clan. It was fun. Plus it's just silly, with no great message. I'm fond of it and hope it sees the light of DVD someday."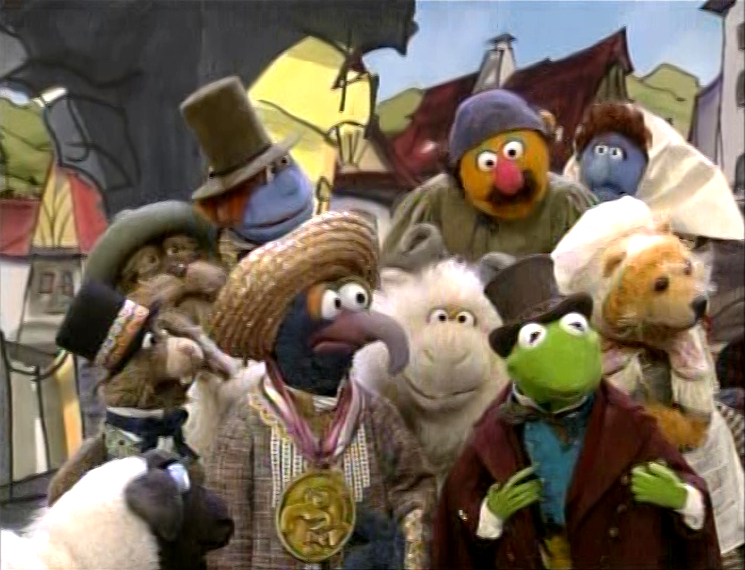 Although Muppet Classic Theater has only been released on VHS, you can watch it all right HERE with this link to Part 1.
All in all Muppet Classic Theater is an absolute delight. The songs are catchy and the script is fantastic in giving the Muppets their classic humor while also giving respect to the original stories.