MARCH 18, 2014

Kermit the Frog made a big-time appearance on The Tonight Show Starring Jimmy Fallon last night. He sat in as Jimmy's second guest and then performed "Bein' Green" accompanied by The Roots and Jimmy Fallon. It was a delightful appearance and Kermit was a lot of fun in the interview. Enjoy the videos below!
Miss Piggy stopped by Toronto's CP24 Breakfast show thiorning on her big promotional tour through Canada. Unfortunately, the video cannot be embedded, but you  can watch the fantastic nine minute appearance on the CP24 Breakfast website.
Tina Fey was spotted in Walt Disney World's Hollywood Studios theme park a few days ago. Obviously, she stopped by Muppet*Vision 3D. While she was there, she got to hang out with the Muppet*Vision version of Sweetums, and we got this stellar picture: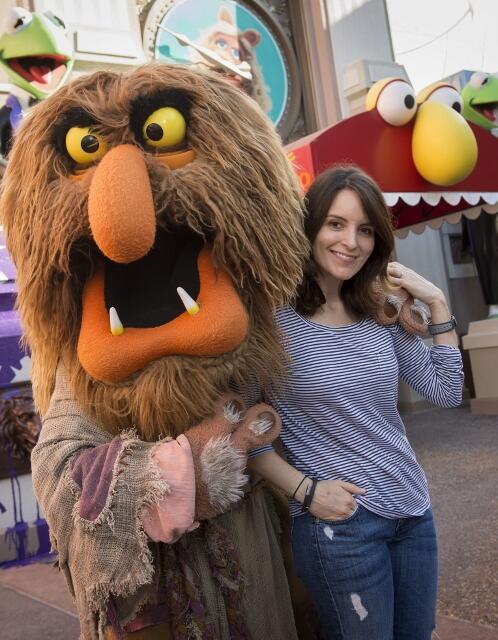 The Muppets overwhelmed QVC on Sunday, appearing on the network for almost nine hours straight. The appearances were fun and Muppety, but few and far between. However, we got to see Rizzo, Constantine, Bobo, Big Mean Carl, and Link Hogthrob (plus the frog, pig, bear, whatever, and prawn), so it's all worth it. Our friends at ToughPigs.com have collected all of the videos from the appearance in one massive post, and I highly suggest checking it out!
The Swedish Chef and Constantine appeared on ABC's The Chew this morning. The Swedish Chef helped cook some meatballs. Unfortunately, the videos are once again not able to be embedded, but the appearance is hysterical and felt like an old Swedish Chef sketch on The Muppet Show. You've got to check it out. Visit The Chew's website for the two videos.
Constantine is the subject of a great article from The New York Times which also features interviews from James Bobin and Matt Vogel. It's a really insightful article about the creation of the character and goes into detail about some of their difficulties in distinguishing Constantine from Kermit. Give it a read!
Entertainment Weekly has yet another clip from Muppets Most Wanted. In this clip, we see Kermit attempting to break out of the Russian gulag he's trapped in. Unfortunately for the frog, Nadya (Tina Fey), doesn't really like that idea. Watch below (or don't to remain spoiler free):
Muppet fans Ryan Dosier (hey, that's me!), Ryan Roe, and Joe Hennes (both from ToughPigs) were interviewed by The Wall Street Journal for an article profile on Muppet fandom. The article is incredibly well written and I'm so honored and thrilled to be quoted alongside my friends Ryan and Joe. Read the article over on The Wall Street Journal site.
Our amazing friends at ToughPigs.com have organized fan screenings of Muppets Most Wanted in major cities across the United States. If our base wasn't in the middle of nowhere, we would've jumped at the chance to host one of these. But look at all the cities covered: New York City, Los Angeles, New Orleans, Portland, Washington, DC, Dallas, Philadelphia, Atlanta, Salt Lake City, Chicago, and Phoenix! Incredible. For more information, check out ToughPigs.
The Muppet Mindset by Ryan Dosier, muppetmindset@gmail.com