Kieran Moore – 
Hi Guys, did you miss me while I was away? (What do you mean you didn't notice I'd gone?) While the world has been turning and the workers have been working, I've had a lovely vacation in France and Belgium (yes, such a thing is possible) and now I'm raring to go with another Top 10 just for you. As I'm almost out of Muppeteers to write about I thought my next few lists could be based on a specific theme instead and as I've just had a vacation and the schools are about to break for the summer, this week's theme was a no-brainer. Yes, you guessed it, this week I'm writing about New Year's Eve! Ok, I jest, but that would kind of be the no-brain theme if you think about it!
Anyway… today I'm here to count down the Top 10 Summer Vacation Songs. This is a list which can form the basis of your ultimate Muppets summertime playlist and is filled to the brim with lazy, chilled out tunes for relaxing by pool and crazy, up-tempo numbers for when you want to sit by the pool but be slightly less relaxed! There really is something for everyone (as long as you like sitting by the pool)!
10 – Wipeout – Animal – Muppet Beach Party Album
"Welcome to 'Controversial Muppet Productions 101'. Today we're discussing Muppet Beach Party – tomorrow Muppets from Space…" Seriously though, while there's a lot to dislike on the album that this song comes from there's also plenty to love and that includes some great Muppeteer performances. Frank provides a fun vocal here and it seems incredible that Animal hadn't performed this song previously. In 1993 this song just snuck its way into the UK Top 40 at number 39 and in doing so joins classics such as "Halfway down the Stairs", "Bohemian Rhapsody" and "Rainbow Connection" which have all been released as singles in the UK as well. This is the perfect way to kick off any summer vacation themed playlist and in my opinion will leave you a long way from being "board" (ouch)!
9 – Daydream – Kermit the Frog and Vince Gill – Kermit Unpigged Album
It was totally unintentional to have two early 90s audio-only tracks starting off this list but there you go. Kermit Unpigged has given me one of my favorite ever Muppet songs in "Wild Thing" and this track is very close behind it. It's impossible to listen to this song and not sway back and forth (which makes typing very difficult) and it's perfect for a relaxing stroll through the country or a lazy afternoon picnic by a lake. How is it possible for a song to sound like hazy heat, dandelions and a shady spot under a tree? This is the song that the word evocative was invented for. Steve Whitmire as Kermit sounds great and I love his adlibs at the end, but it would be amiss not to praise the awesome harmonies from both vocalists. This is a silky smooth performance that I just love.
8 – Counting Vacation – Count von Count – Sesame Street
This is a fun mix! Along with the Count's usual Eastern European music style we also get some calypso and a dash of reggae as well. I think fun really is the best way to describe this song. It's fun that the Count would count backwards as a way to get a break from counting. It's fun that the Count wears a bright shirt and goggles on holiday. And if there's anything more fun than the Count swimming I've yet to witness it. The puppetry is fantastic and as you might expect from Jerry Nelson the singing is perfection. As always his portrayal as Count von Count is a tour de force. The way Jerry imbues him with such enthusiasm is something I'll never get tired of.
7 – Pig Calypso – Miss Piggy, Kermit & Pigs – The Muppet Show
Does anything sound like a summer vacation more than a steel drum band? According to Muppet Wiki this song is one of only a handful written specifically for The Muppet Show and it means that it's filled to bursting with the show's trademark puns. Kermit's verse in particular is hilarious. The vocals from Jim Henson and Frank Oz are superb and Piggy really gets into the spirit of things with some fun trills and vocal gymnastics. Louise Gold also needs an honourable mention as Annie Sue in the pig chorus – she provides an extra layer that makes it much more musically interesting. This song makes me want to grab a fruit-based drink with an umbrella in it and head on down to the beach!
6 – Going Camping – John Denver & The Muppets – Rocky Mountain Holiday
This is a song that I could sing a lot! I love a camping holiday and I love a camping holiday song almost as much! Surely this song has become a Scouting classic? I've said before in previous charts, I love it when songs have constituent parts that come together later to make a whole song just as this one does with great harmonies and counter melodies. It's such clever writing. The jokes are funny too – we all love a good Kermit mosquito joke and slapstick Fozzie is always great value. In my opinion anything that includes John Denver and The Muppets is perfection and this song is no exception. They work together so well I'm struggling to come up with anyone else who "fits" with The Muppets as well as John does. The scenery is stunning and the song makes me want to get up and do something outdoorsy. Is there any greater compliment for a summer song than that?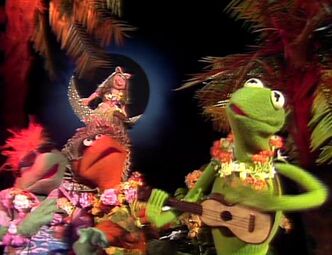 5 – Ukulele Lady – Kermit the Frog & Miss Piggy with Scooter and a Whatnot Backing Singer – The Muppet Show
If you're old enough to have been a kid in the 80s you probably remember a time when parents seemingly cared a lot less about what movies you watched than parents do these days. To that end, I remember this song mostly because it appeared in "The Man with Two Brains". Looking back, I was far too young to be watching a movie with such adult humor, but to be fair to my Mother a lot of the jokes went over my head. Either way, because of that movie, I've always enjoyed this song and Kermit provides a suitably laidback vocal here, ably assisted by Scooter and a Whatnot that I wish I could give a proper credit to. The harmonies are excellent and Piggy sounds sweet and serene. The song's night time setting lends it a tropical, sultry vibe that feels positively balmy.
4 – Couldn't We Ride – Kermit the Frog & Miss Piggy with The Muppets – The Great Muppet Caper
I guess summer must be a time for romance! Unintentionally this list is becoming "The Kermit & Piggy Story". I'm going to admit that if I'm completely honest I've always preferred the music of "The Muppet Movie" and "The Muppets Take Manhattan" to that of The Great Muppet Caper, but I think that's really just down to personal preference and nothing to do with the quality of the songs. You don't need me to tell you how amazing the puppetry on display here is – but it really, really is. If you haven't seen this movie 1) you really should and 2) I wish I were you people seeing this for the first time! This song is bright and breezy and perfect for a sunny afternoon with the pig you love. Why not call them up and ask "Couldn't we ride?" Just don't hold me responsible for what happens next!
3 – Caribbean Amphibian – Kermit the Frog – Sesame Street
Kermit fans are certainly getting their money's worth in this list! I first heard this song on the "Elmopalooza" album where Kermit sings it with Jimmy Buffet and instantly loved it. However, the original version is just as good and has an innocent charm all of its own. We're back in steel drum territory here and it makes this song totally tropical. Kermit looks mighty fine in his beachwear and I love his sunglasses. There's something about the way about the way that Kermit says "coconut tree" that tickles me and I think he sounds extra froggy here. Thinking about it, I wonder if this song was Kermit's way of telling us about the recently discovered Glass Frog? Costa Rica does have a Caribbean coast after all so it's not that much of a stretch.
2 – Kokomo – Kermit the Frog – Muppet Beach Party Album
Our second entry from Muppet Beach Party is far and away my favorite track from that album and as a proud owner of the "It's Not Easy Bein' Green" sing along video it's probably the one I'm most familiar with. Whether it's this version or the original from The Beach Boys (which I only just realised recently was written specifically for the movie "Cocktail") I've always loved this song. I like its laidback style and its theme of dreaming for that special place where you can go to unwind and be yourself. Kokomo isn't real (there isn't one off the Florida Keys, certainly), but it's more a state of mind. We can all find Kokomo somewhere and this song urges us to do so. It's getting boring constantly writing about how well Kermit sings all the time, but it's interesting to note that where the previous song was sung by Jim this is Steve Whitmire's Kermit, and he is already doing an awesome job after such a short amount of time. This is a nice transition phase Kermit performance that sounds like it could be Jim, but is actually becoming the Kermit we know and love now.
1 – Sweet Vacation – Kermit the Frog & The Muppets – The Jim Henson Hour
This really was the only choice for number one (I just wish there was a better version on YouTube to link to). I think this might actually be the first song from The Jim Henson Hour to appear on any of my charts which is interesting. This song pretty much combines all the best elements from the songs above and wraps them all together in a perfect musical package. It's got a tropical feel and is up-tempo while still having a perfectly laidback summer vibe. It's hot and sizzly, but dreams of a place where you can relax and be yourself. It's brilliantly sung with some great harmonies from Gonzo (and Dave Goelz) and features superb support from Steve and Kevin Clash as well as the whole cast. If you only take one Muppet song on vacation with you this summer it should be this one.
But why, I ask, would you only take one Muppet song on vacation with you anyway? This playlist really is just the tip of the iceberg. For example, "Movin' Right Along" is perfect for a road trip, "Coconut" has that tropical island feel and "Life's a Happy Song" and "Easy Goin' Day" are upbeat and cheerful and just right for a trip to the countryside. What all these songs show us though, is that while there are plenty of stresses and strains and negative things we'd like to say goodbye to, vacation is a state of mind and The Muppets are the perfect way to get away from it all even if you're in your own living room. If you can't get away this summer, have a Muppet movie marathon; spend all day watching Sesame Street on YouTube or listen to the songs on this Top 10 list. Either way, the sun is guaranteed to shine!