Kieran Moore – Last week's chart was based upon a green-colored Muppet and this week's continues that theme by being all about Wembley Fraggle….
Is that too silly? I don't know…
Is there a Muppet more indecisive than Wembley Fraggle? After all, his name pretty much means just that…
No, I'm not sure I like that…
When I was a kid if you'd asked me who my favorite Fraggle was I'd have replied "Mokey". If you'd then asked me who my second favorite Fraggle was I'd have said Wembley…
Perhaps not…
Part Bean Bunny, part Rizzo the Rat, but all Wembley; Steve Whitmire is a triumph as this week's subject…
Maybe that's a bit too dramatic. Let's try…
Here in the UK, Wembley is our national stadium so it's not uncommon to hear soccer fans chanting "We're on our way to Wembley, we're on our way to Wembley"…
Maybe the first one was best…
Last week's chart was based upon a green Muppet and this week's continues that theme by being all about Wembley Fraggle….
I tell you what – you decide which you like best. I give up!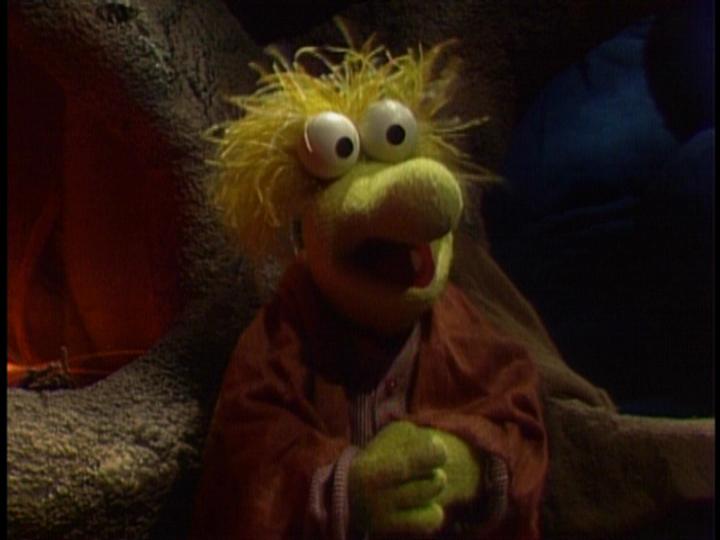 10 – Brave Alone – Wembley Fraggle
Before I discuss this I feel I have to quickly address a song that I'm sure will be mentioned in the comments if I don't get in first and that's "Tune for Two/Children of Tomorrow". I've written about this song several times in the last few months, including on the "Fraggle Rock Group Songs" chart, and for that reason I have deemed it not to be eligible here in a chart based on a single character. Rest assured had it been included it would have rated highly, but I do want to give other songs their moment to shine.
I feel kind of bad starting a chart based on a character as fun as Wembley with a downbeat song, but that's how it fell I'm afraid. And talking of afraid, that's exactly what Wembley is here too. Wanting to be brave, but also feeling scared is a feeling that I think we've all felt as kids – and this song is doing its level best to make Wembley feel better. I know it's exactly the kind of thing I'd have been singing in the same situation as a child. I love that the Henson shows aimed at younger kids such as Fraggle Rock and Sesame Street help children deal with complex emotions – it's so helpful. Finally, Steve Whitmire's wavering vocal is sheer perfection!
9 – (Sleep By the) Light of the Moon – Wembley Fraggle
There are several song types that the Muppets as a whole do incredibly well and one of those is lullabies. This is Wembley's entry to that canon and I think it's one of the best. Regular readers will know I love a lullaby and several have topped my lists in the past so I don't praise this song lightly. Wembley has a beautiful tone to his voice here which is a huge contrast to how it sounds in some of the songs to follow. Steve Whitmire plays young incredibly well and Wembley's youthful innocence is exquisite here. This is a song that I must admit I wasn't as familiar with as some of the others on the chart, but it's one that I'd love to learn. When I make my Fraggle Rock cover album this may well earn itself a spot.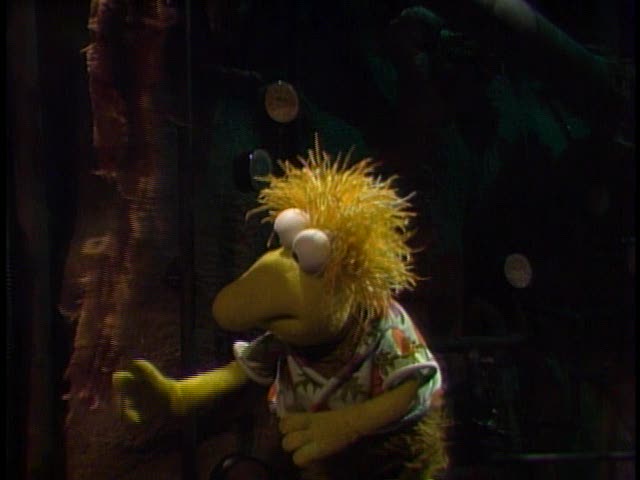 8 – Just a Little Wimp/Learn to Love a Wimp – Wembley Fraggle with Lou Fraggle
I've included both versions of this song here as they are essentially the same. In fact, if this were a Broadway musical Learn to Love a Wimp would probably be billed as "Just a Little Wimp (Reprise)". The first version has echoes of "Brave Alone" (no. 10) in that it's Wembley singing to make himself feel better, taking something negative and trying to put a positive spin on it. It's a simple song with minimal accompaniment that comes together to make a sweet character piece for Wembley. However, the second version which is a duet with Lou Fraggle is really the reason that this song made the chart. Aside from the fact that we all love a happy ending, and here Wembley gets the Fraggle Rock equivalent of riding off into the sunset, the duet version has some nice harmonies and a sweet folksy guitar line that give me warm fuzzies. I love that at the end of the song Wembley looks at Lou's hand in his like he can't believe his luck. It would have been good to see more of Lou than we did as she might have made a fun secondary character to have the odd adventure with the main "Fraggle Five", but maybe she'll get a cameo in the upcoming movie. Joseph Gordon-Levitt if you're reading this you know what to do…
7 – A Friend is a Friend – Wembley Fraggle with Gobo Fraggle
Wembley and Gobo friendship songs are pretty much a Fraggle Rock song genre on their own! This happy, reggae inspired number is one of the absolute best in my opinion (which I guess is pretty obvious since I'm writing about it here). I just can't get enough of the fantastic harmonies in the chorus. I'd like to frame them and hang them on the wall so I can keep them forever. They'd also make a great ringtone! Of course you know when you put Steve Whitmire and Jerry Nelson together something special is about to happen. There are some great friendships in the Muppet-verse and Wembley and Gobo are right up there with Bert and Ernie, Kermit and Fozzie and Gonzo and Rizzo for me. I guess Steve and Jerry deserve a place on that list as well!
6 – Very Scary (If this don't Getcha) – Wembley Fraggle
If not this song in particular, certainly this musical style is the one I most associate with Wembley (I guess that's because of his similar part in the "Fraggle Rock Closing Theme"). This number turns it up to 11 and is full of those awesome scat words and noises that he (and Steve) does so well. This is perhaps a bit more "Great Gatsby-esque" than some, but its 1920's jazz feel is perfect for Wembley. I just can't keep from doing the Charleston every time I listen to it which I must admit does make typing rather hard. I've mentioned how much I enjoy Steve's singing throughout this list, but I also have to point out the fantastic puppetry on display in this song. It's fast and furious and an absolute master-class in how to do things right. There's a lot going on with multiple props and quick cuts yet it's so natural you could be forgiven for forgetting that Wembley is a puppet at all. Bravo Sir!
5 – Wemblin' Fool – Wembley Fraggle with Gobo Fraggle
There's a definite argument that this is Wembley's most famous song – whether that's actually the case is up for debate, but it's a line of thought that has some merit. Firstly, in terms of being a Wembley song it pretty much has his name in the title. Secondly, it's had multiple audio releases and third, it was performed at Jim Henson's memorial and the "Jim Henson's Musical World" concert which means it's been seen by a wider audience than just those watching the show. It also appears on a record that I've just bought of Fraggle Rock cover songs recorded by Canadian singer/songwriter J.J. Barrie. I haven't listened to it yet, but I have high hopes! We're really rocketing our way through the musical styles on this chart thanks to the incredible Philip Balsam and Dennis Lee and I'm really digging the country vibe they provide here. It's bright and breezy and just makes me smile.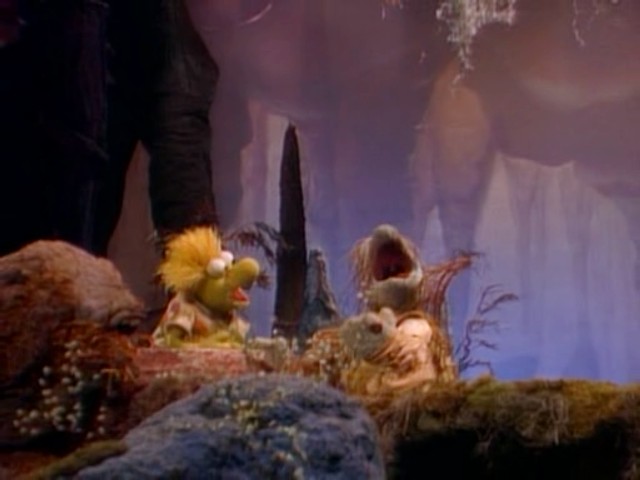 4 – Free and High – Wembley Fraggle with The Odd Old Man (Spiderfly)
This song is one that for whatever reason had slipped out of my memory until it appeared on my Steve Whitmire top 10 at the beginning of the year. Since then it's become not just one of my favorite Fraggle songs it's also one of my favorite sequences from the show. One of the reasons for that is Richard Hunt who I think will always be the Muppeteer I like best. He's as good as always here as "The Odd Old Man" (who surely deserves a name). Richard, along with Jim Henson, had a voice that was always recognisable to me as a kid in whichever Muppet production he happened to be in. It was somehow reassuring to hear those familiar voices that were all different and yet very much part of the same man. Another thing I like about this sequence is its scale. As the show went on and its mythology got bigger so did the world of Fraggle Rock. It started to feel more organic and outdoors and this song is the pinnacle of that for me.
3 – Feel So Bad – Wembley Fraggle with Boober Fraggle, Mokey Fraggle and Red Fraggle
This is the only song on this chart to feature Boober, Mokey and Red and boy is it a doozy (that's doozy, not Doozer!) I love, love, love this song. How much do I love this song? If you take all of Uncle Matt's postcards and lay them end to end you'll have an awful lot of stationery to pick up, but while you do that let me tell you how much I love this song. I love it a lot. Ok, that didn't take as long as I thought so I guess I should tell you why as well. All three supporting Fraggles have never sounded better, but Dave Goelz as Boober in particular is relishing his character's affinity to the subject matter with a powerful opening line and fun interjections. Of course, the bulk of the praise falls firmly on Steve's shoulders though. He's exceptional here once the brilliant gospel-inspired chorus kicks in. I really think this is one of his best vocals ever. Great high notes and perfect lows combine to give a bluesy performance that would be the envy of many a singer. It's just not long enough!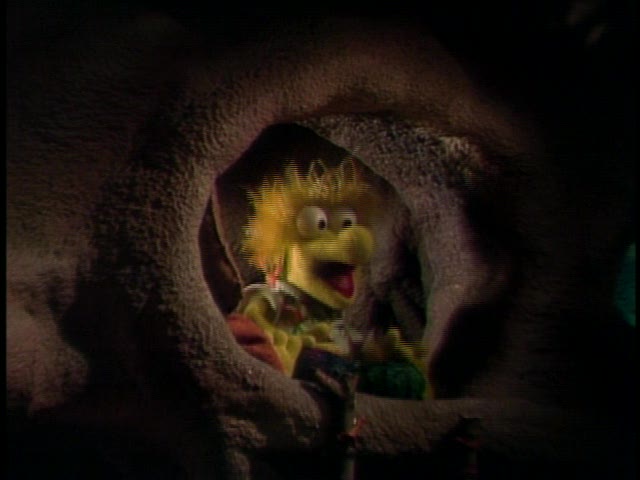 2 – Here to There – Wembley Fraggle
Speaking of songs that aren't long enough…
Could this be more different from the last song in the chart? Where that one was big and rousing with a large choral feel this is quiet and simple and intimate. I've loved this song since it appeared on the much-rented-in-my-childhood video, "Fraggle Rock Songs: Volume One". I loved that video. It used to come with a sheet of lyrics so you could sing along. I now own a copy of that tape, but sadly don't have the lyrics sheet. Was there ever a volume two? Anyway… I feel like this is a great character moment for Wembley which is probably the reason it's charted so highly. It's nice to hear Wembley sounding resolute about something rather than being characteristically indecisive. His character takes a leaf from "The Wizard of Oz" I suppose in that although he is a wembler if he looks deep inside, his self-assuredness is there the whole time. In many ways he's the Fraggle Five member that has made peace with himself the most and that's a fun juxtaposition for this indecisive guy.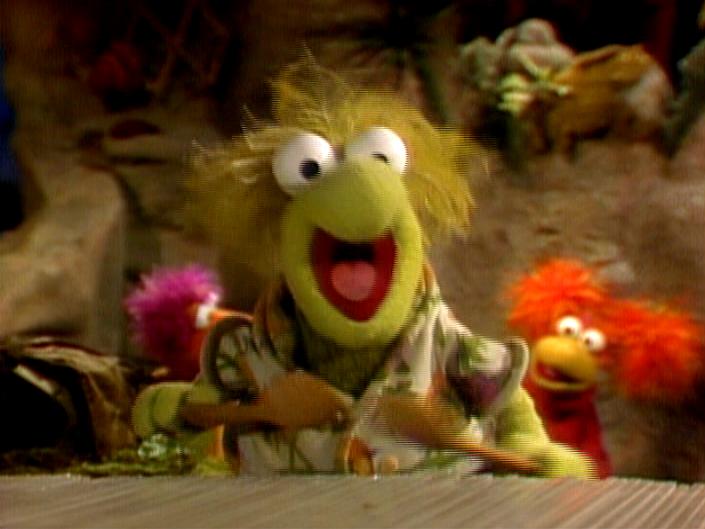 1 – Pukka, Pukka, Pukka Squeetily Boink – Wembley Fraggle
This song is quintessentially Wembley. (That sounds like it could be the name of a new fragrance – "For the Fraggle who can't decide if he has everything!") This song is packed with all the things that make Wembley so special. It's fun and musical and loaded full of the wonderful Wembley philosophy we know and love. The line "I believe in buried treasure falling from above" is perfection and this is awash with others just as good. This song incorporates the Fraggley theme of magic being within you which became even more important as the show continued. I think all the best Fraggle Rock songs have that motif, but this one is having fun with it. Steve's ability to scat and do unusual things with his voice is allowed to run free and the song writers have taken something that really could have been backing and musical filler and made a virtue of it. Is this the ultimate Fraggle Rock song? I don't know, but it's a definite contender.
I guess I should end by thanking Wembley for being not just a truly brilliant Fraggle, but also a style icon as my a cappella group wears flowery shirts when we sing. Who knew back in the 80's I'd be getting fashion tips from a Fraggle? I also need to thank Steve Whitmire for basically just existing. I can't really say much more than that!
As we've seen Wembley Fraggle is a complex character. It's easy to see his name and assume that Wembling is all he does, but just as Red Fraggle isn't actually red there's a lot more to a character than the name. I hope this chart has helped you see Wembley in a different light. I'm sure I've made a few discoveries through the course of writing it. Or maybe I haven't… I just don't know!