By Michael Wermuth Jnr
FLASH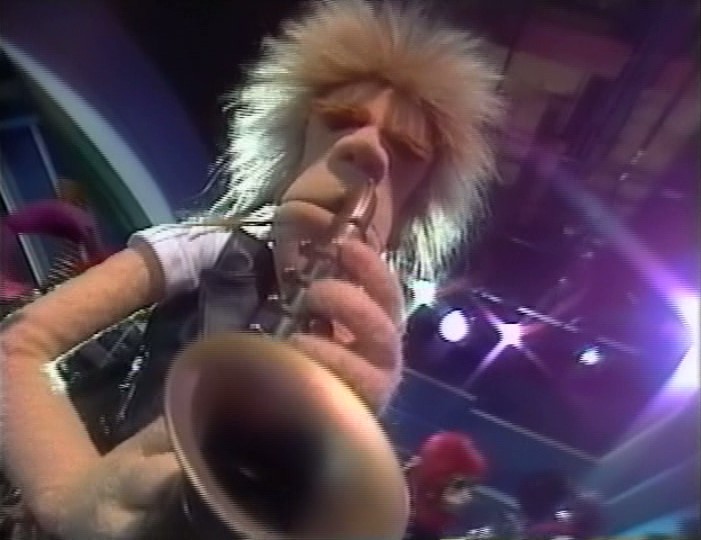 BEST KNOWN ROLE
Saxophone player for Solid Foam.
PEFORMED BY
Steve Whitmire
FIRST APPEARANCE
The Jim Henson Hour Episode 103: Power, 1989
MOST RECENT APPEARANCE
Muppets Tonight Episode 204: Heather Lockear, 1997
WHO IS FLASH?
Flash is the saxophone player for Solid Foam. He is also the one who is most popular with the ladies. His biggest role comes in episode 108, when he is chased to the control room by his groupies, who find him and go wild when Kermit says "we'll be back in a flash!" Flash is soon relieved of his groupies when they become Bean Bunny's groupies, remarking that "he's so much cuter than whats-his-name". This episode also establishes that he's hard to understand, with Clifford having to translate.
However, when the band performs its musical number, "The Music Just Keeps on Rolling Along", he does sing coherently (though it is said later that the music, singing, and even the synthesizing were all synthesized, so maybe that's why he could be heard clearly).
All of his appearances on the show were alongside his band mates, and he had very little dialogue in other episodes (making a brief "yee-haw"  sound in episode 109: Garbage). As part of the band, he played the saxophone for "Sweet Vacation" and joined Smokey Robinson for two numbers, and played the fiddle for k.d. Lang's number "Waltz Me Once Again Across the Dance Floor".
After the show was canceled, Flash was only seen one more time, in an episode of Muppets Tonight, being a customer at a coffee shop in the number "There's an Awful Lot of Coffee in Brazil". He even gets to speak a coherent line.
WHY DO THE  MUPPETS NEED FLASH?
For one, Solid Foam needs a saxophone player (though Zoot did play sax for the band in one episode, but Zoot is The Electric Mayhem's saxophone player). For another, Flash does have a very cool look, and dresses nicely for the 1980s (too bad that decade had to end 25 years ago).