Kieran Moore – Before I start this article properly I thought I would just mention that I've decided to add the word "Snuffleupagus" to the dictionary on my PC. I figured it would be easier in the long run…
Without wanting to sound like I'm copying what I wrote last week about Grover I have to say the Mr. Snuffleupagus (Snuffy) was a bit of a favorite of mine growing up. I think that along with Big Bird and Barkley he was probably one of the first full-bodied Muppets I'd seen. It would be close between those three and Sweetums. Even then he stands out as larger and more interesting to look at. To my young mind he was very different visually from the standard modified sock puppet which made him easily recognizable and consequently I loved it when he popped up onscreen. His size and complicated mechanics also make him a feat of puppetry. Trawling through his musical exploits for this chart has allowed me to be awed by some amazing performances and I hope that as we go down the list you will be too.
Let's put our best snuffle forward and get on with the countdown…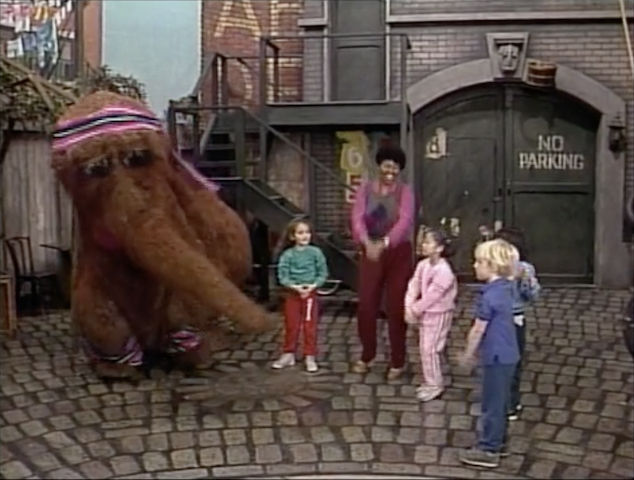 10 – The Snuffle Shuffle – Mr. Snuffleupagus – Sesame Street
This song is a perfect case in point to illustrate how brilliant Snuffy's performers are. For this number it's Martin P. Robinson on front-end duty (presumably with regular back-end performer Bryant Young literally bringing up the rear!) There's so much going on with Snuffy. His eyes, mouth and snuffle all move at the same time and when you add in his legs, body and a vocal performance as well you can see just how incredible Martin is at multi-tasking. This song has a fun "Hokey Pokey" vibe to it which combined with an up-tempo jazz-blues arrangement makes it impossible to sit still to. It also taps into the aerobics craze that was sweeping the world in the early 1980s. I like that Snuffy has a hippy/earth mother style head scarf as opposed to the sportier John McEnroe style sweat band. I think it suits him better. He does have the ubiquitous leg warmers though! What a style icon!
9 – On Top of Spaghetti – Mr. Snuffleupagus – Favorite Kids Songs 2
I've loved this song since I learnt it as a kid! I also like the version about the Bald Eagle, but there's no way Sam would allow me to write that here! This Italian-flavored number (both in subject matter and arrangement) really shows off Snuffy's voice to the fullest. Martin is able to really let his voice "do the talking" here with this audio only performance. Because of that, we get a neater vocal here than we sometimes do from Snuffy during a full onscreen performance (lugging that guy around can't be easy) and there are a few extra trills and the occasional bit of additional emphasis. Snuffy's sneeze is a thing of beauty. I bet his snuffle could send a meatball into orbit! I really like the mandolin and accordion in this song as it adds a "Bella Notte" feel. A shout out also goes to the backing vocalists on this track as they add so much extra spice to the dish!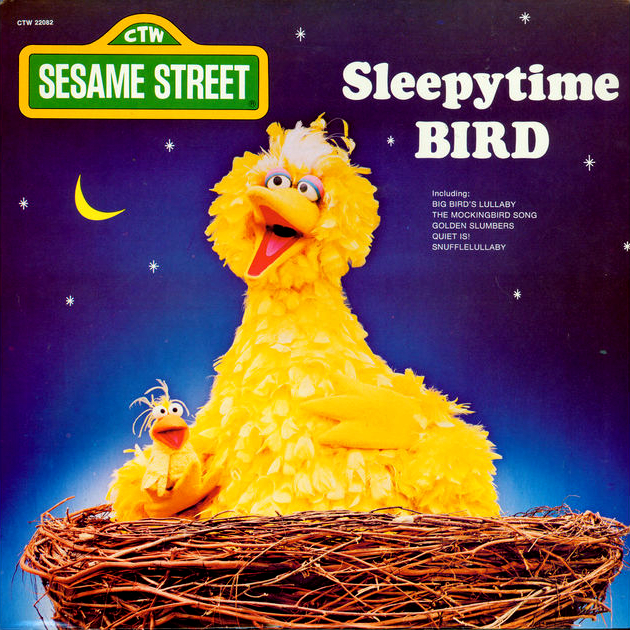 8 – The Snufflelullaby – Mr. Snuffleupagus – Sleepytime Bird
Everyone knows by now that I love a lullaby and Mr. Snuffleupagus has two – this song and "Snuffle Lullaby" which sadly came in at position 11 so isn't featured here. The main reason that this one won out is purely that it has a more traditional lullaby feel while the other is kind of an action song. As presented, Snuffy is certain that this song will send Big Bird off to sleep and I can see why. I'm not sure whether it's the repeated refrain of "sleepy, sleepy" or the fact that I'm writing this at 23:40, but something has me yawning! It's pretty impossible to hear or see a yawn and not follow suit so I'm really suffering right now. I bet the production team struggled to stay awake as they recorded this album! Jerry Nelson is performing as Snuffy here and his deep raspy voice is just perfect. It's almost impossible to imagine that this is the same singer as "Halfway up the Stairs". And on that note I think it might be bedtime…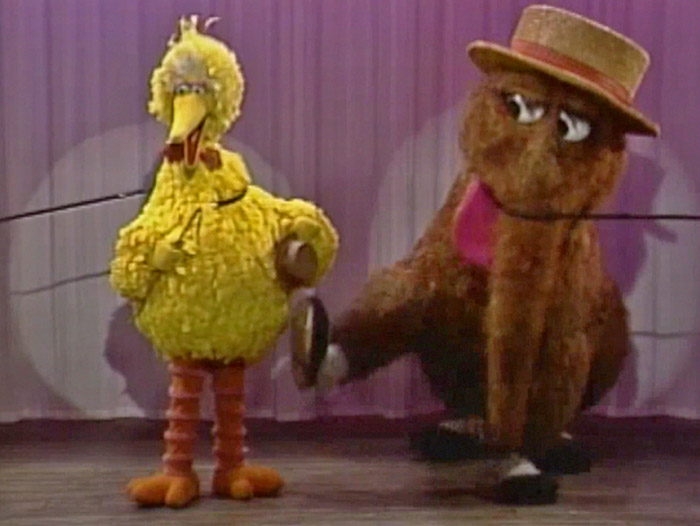 7 – Big Bird and Snuffy go Vaudeville! – Mr. Snuffleupagus and Big Bird – Sesame Street
What a great way to wake up! This track doesn't seem to have a name on "Muppet Wiki", but on YouTube it was uploaded as "Big Bird and Snuffy go Vaudeville!" which is a fun title so I thought I'd go with the same. Part-spoken, part-sung yet all-enjoyable this song continues the Muppets' tradition of using Vaudeville as entertainment. "The Muppet Show" probably has the best known examples with guest stars such as Milton Berle and Wally Boag appearing and even Statler and Waldorf getting in on the act, but Sesame Street has a fine pedigree too. Big Bird and Snuffy in particular seem to be used in the Vaudeville style a lot and I think this might be my favorite of those occasions. Snuffy's performers are really throwing themselves into it. His tapping back foot is a neat touch and his spinning snuffle trick is worthy of copious applause. I'm also very impressed with the way he hopped off the stage at the end. How is it possible that a creature without arms can practically be doing jazz hands?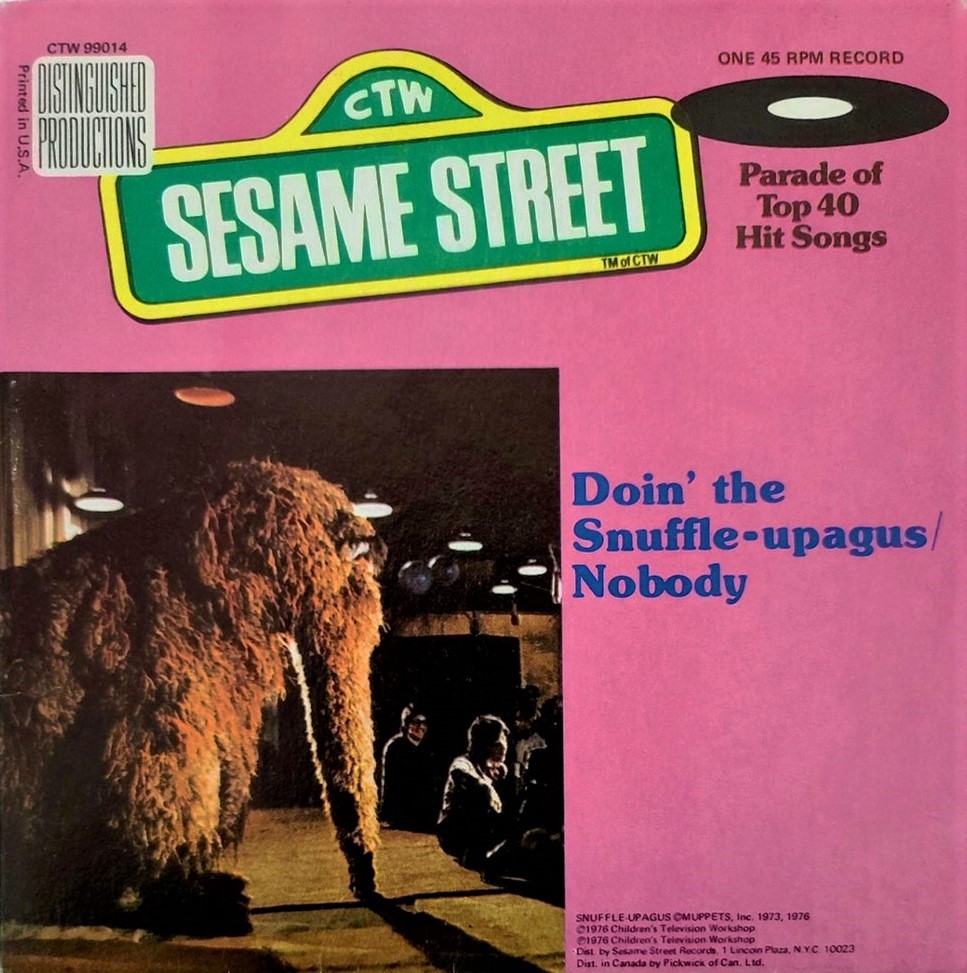 6 – Nobody – Mr. Snuffleupagus – Sesame Street LIVE!
I guess this a good time to address the "elephant in the room". When discussing Snuffy it's impossible to do so without mentioning the fact that for many years only Big Bird and the viewer (and a few select others) knew he was real. Snuffy first appeared on the show in 1971, but it wasn't until 1985 that he was seen by everyone. The episode in question is a Sesame Street classic as it's the end of an era and the beginning of a whole new chapter for some of its most popular characters. I'm not sure why the decision was made to have Snuffy only be seen by Big Bird, perhaps to show that it was ok to have imaginary friends, but it was absolutely the right choice to have him "outed" when they did. Not just because it showed kids that adults would believe them when they told them important things, but also from a story point of view. Listen to the lyrics of this song and you'll know just why for Snuffy it was so necessary too. It's heartbreaking.
5 – If I Was a Cloud in the Sky – Mr. Snuffleupagus – Sesame Street
Snuffy as a cloud is just a brilliant idea. He trundles onto the street accompanied by his deep lolloping theme music and then performs as a cloud! As a side note, Big Bird's Oreo comment reminds of just how long they have been around in the US (Oreos have only been available since 2008 in the UK!) As with a few of Snuffy's best songs we're back in Vaudeville territory here, but this song (as befits its cloudy theme) has a light, floaty touch. Snuffy is such a sweet soul. I think that's one of the reasons I like him so much. He's just full of love. What a masterstroke to have a character that could be considered scary, and he really was when he first appeared, have such a huge heart. This is a tune that could be taken out of the context of the show and its characters and still make a wonderful love song. It's beautifully written by Tony Geiss and is perhaps the song that best expresses Snuffy's personality.
4 – The Snuffleupagus Polka – Mr. Snuffleupagus and Alice Snuffleupagus – Sesame Street
I love a Polka! But then who doesn't? If enjoying a bit of Weird Al has taught me nothing else it's shown me that anything sounds better as a Polka. This is a good opportunity to talk about Snuffy's family. Here we see Alice Snuffleupagus who is Snuffy's baby sister as played by Judy Sladky. As a trained ice dancer, Judy brings a great sense of balance, motion and elegance to the character. Other members of The Snuffleupagus family include Snuffy's parents, an uncle, aunt, granny and cousins. Snuffy lives in a cave with his parents and sister, but all that very nearly changed in the early 90's when a show was taped that featured Mommy and Daddy Snuffleupagus getting a divorce. The episode screened so poorly with children that it was scrapped and the divorce never happened, but that's far too sombre a way to end an entry for such an upbeat song so I must add that this number has a great energy about it. Both Martin and Judy are excellent and it's also beautifully shot. That's better.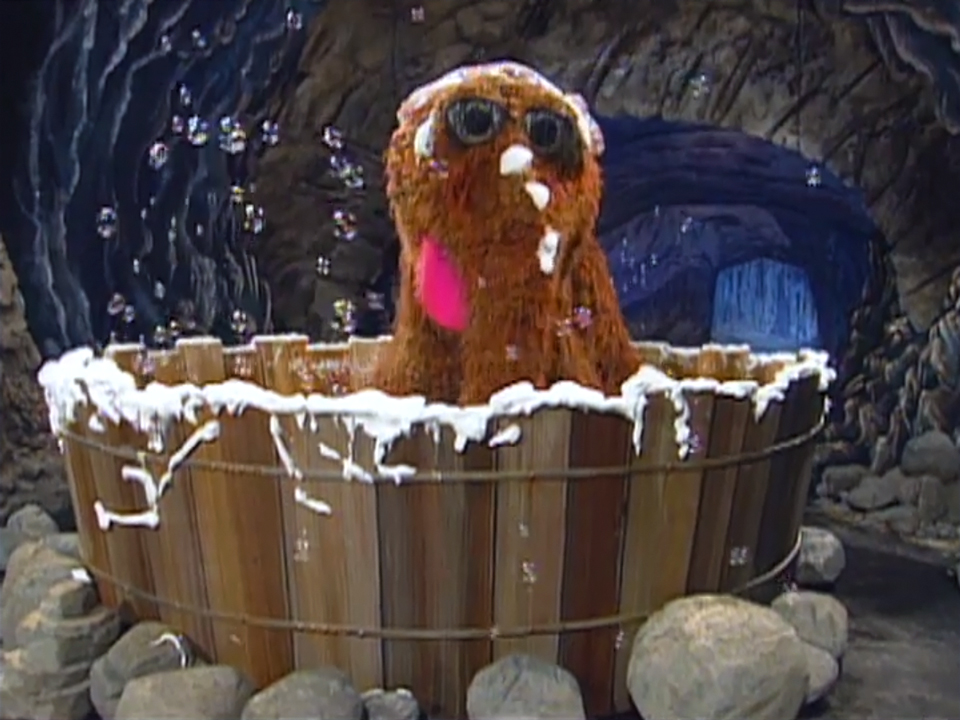 3 – Bubble on My Snuffle – Mr. Snuffleupagus – Sesame Street
When I wrote my previous chart all about Martin P. Robinson this song was mentioned in the comments as one that readers thought had been overlooked so I'm pleased to be able to right that wrong here. Truthfully, that chart was one where I had about five songs all jockeying for 10th place and it was very close. The reason this one features so highly here is because of the amazing performances and interesting staging. Not to do the song down as it's another Snuffy gem, I think I could watch this with the sound off and still be as entertained. Martin is able to work wonders with Snuffy's snuffle. It's incredibly expressive and I'm sure that making it work in a way that means Snuffy can wash himself is no easy task. As Snuffy turns around Martin is brilliantly timed with Bryant Young. The steps of his front and back feet are purposely ever so slightly out of sync which means that Snuffy undulates around the tub. Bravo Sirs!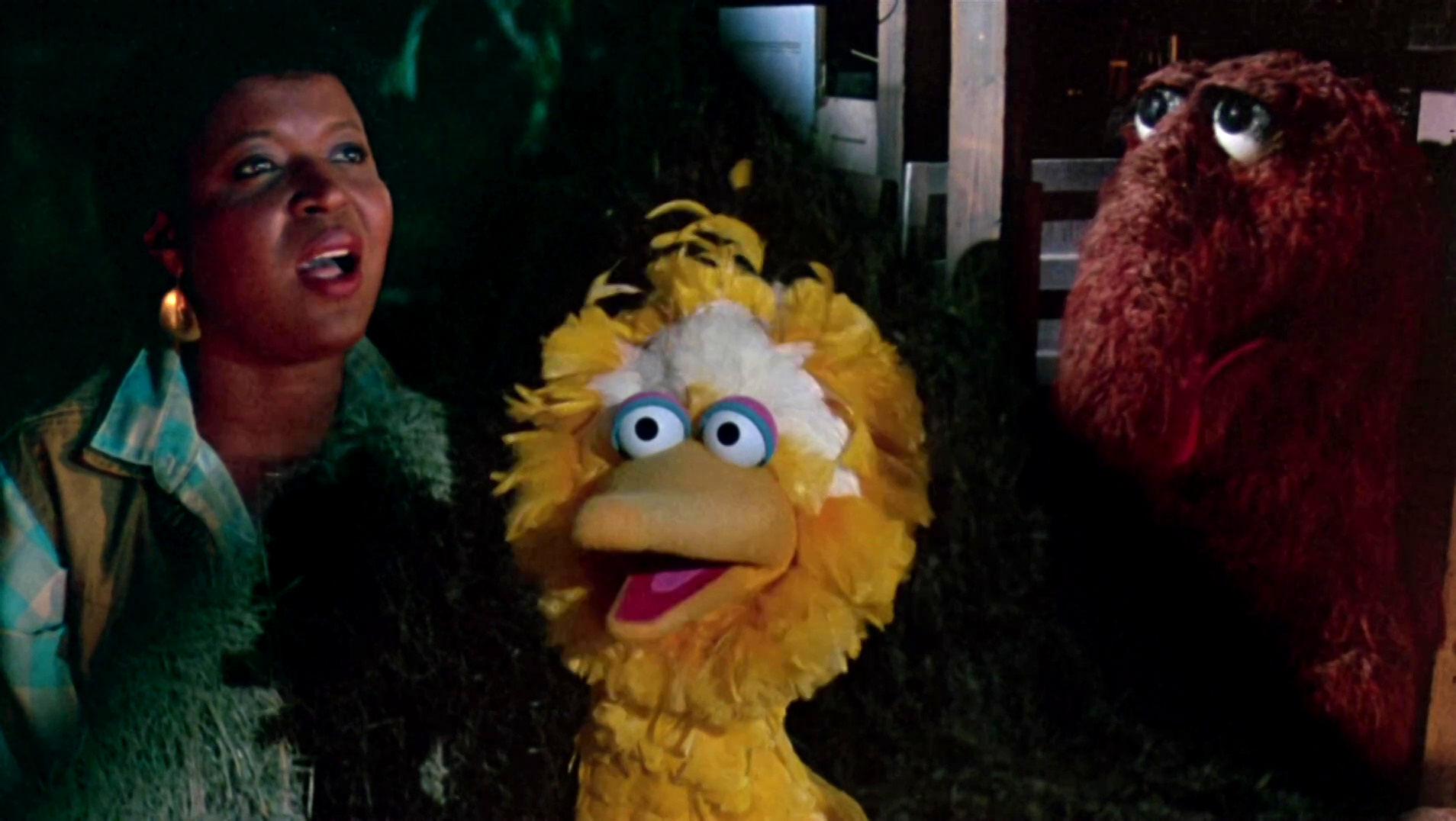 2 – One Little Star – Mr. Snuffleupagus, Big Bird and Olivia – Sesame Street Presents: Follow That Bird
This is one of my favorite Sesame Street songs and was number one on my Martin P. Robinson chart. It was only the fact that I wanted to let another song shine like this one does that means it isn't at the top again here. I remember this song from my many, many viewings of Follow That Bird as a kid. I probably watched it more than Sesame Street itself which has never featured large in UK TV schedules. For me this was the big emotional moment of the movie and not "I'm So Blue" which is the more obvious choice. This always got me more. I need to give a shout out to Caroll Spinney, who has been omnipresent on this chart, and also to Alaina Reed who are both sublime here. Martin is, as always, excellent as Snuffy. Who would have thought that such a lumbering beast (Snuffy, not Martin) could give such a heartfelt performance?
1 – Light Opera Alphabet – Mr. Snuffleupagus and Judy Collins – Sesame Street
I wanted to call this "Madrigal Alphabet" as I like the word "madrigal", but I'm aware that there already is a Sesame Street song with that name so I went for "Light Opera" instead – I can't seem to find an official name for this song. I've featured Judy Collins in a previous chart and I must say I think she's an incredible singer. I love a celebrity who has a long history with The Muppets as it means they have an affinity with them and for them and as well as being a guest star on "The Muppet Show" Judy has appeared many times with the Sesame Street gang. I'm not sure who's performing Snuffy's voice here, but it sounds fantastic and blends nicely with Judy's soprano tones. Based on this performance I think Snuffy should be on the stage. There must be a (rather large) opening in an opera company somewhere? Snuffy is a big opera fan so it feels somehow right and proper that this gets to be number one. While it's lovely that Judy gets presented with roses in this number I feel a little sad that Snuffy doesn't get flowers at the end as well…
So I guess it falls on me to give Snuffy some virtual flowers here. @)-,– (That's my attempt at a rose – just imagine a whole bunch!)
Snuffy, or Aloysius Snuffleupagus to give him his full name, is such an interesting guy. He's mysterious – perhaps partly because of his Big Bird only origins, but also because he's a visitor to the street and a species that the viewer isn't familiar with. That said, he's also warm and friendly and full of love and that makes him a real ball of contradictions. He's a character that you could potentially want to run and hide from that also elicits feelings of protection and compassion. It's strange. And so is he. So I want to thank Snuffy's performers: Jerry, Martin, Michael Earl, Bryant (and all the others who have been "on the back foot") for doing such an amazing job. I also want to thank Snuffy for reminding us that sometimes it's ok to be weird as long as we have an elephant-sized heart to match. Thank You.