Kieran Moore – 
I'm so excited to be writing about one of my favorite Muppet couples – Wayne and Wanda!  Of all the recurring sketches on The Muppet Show, Wayne and Wanda's performances are arguably the most musical. This makes them ideal for a Top 10 chart. Although they didn't throw boomerang fish or eat tyres they brought their own special brand of mayhem to the show. With a repertoire of light operetta and musical songs they were the antithesis of a group like Dr. Teeth and The Electric Mayhem. Instead, their performances were big and opulent and usually featured elaborately decorated sets. In a world of madness they were the tranquil eye of the storm. Unfortunately that storm often crashed right on through!
With characters like Wayne and Wanda their back stories are open to interpretation and imagination and my theory is below. However, one thing is certain – the hours of dedicated rehearsal that obviously had been put into each song, were quite clearly evident every time the stage curtains were opened. Performing was in their blood.
Sadly, for reasons we'll discuss, their performing career with the Muppet gang was cut criminally short, but for now let's take a front row seat and marvel at the virtuoso stylings of this incredible pair.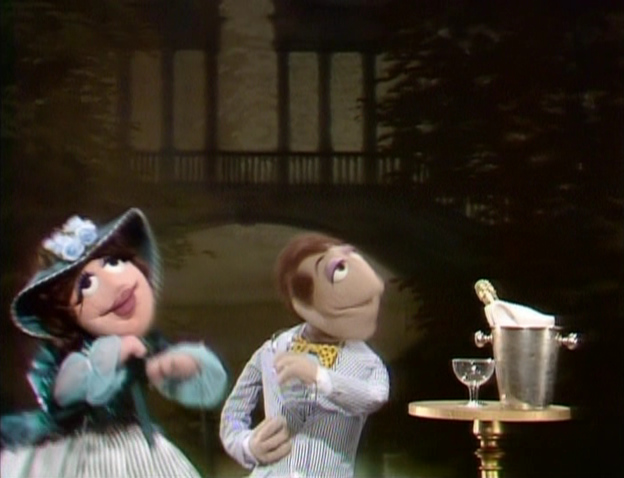 10 – I Get a Kick Out of You – Wayne & Wanda – The Muppet Show
This song, written by Cole Porter for the musical "Anything Goes", was made for Wayne and Wanda. I think one of the cute things about this couple is just that – they are a couple. They clearly love each other and love performing together too. I suspect Wayne might be the driving force of the relationship. However, no matter how much he loves Wanda, Wayne's love of performing seems to get the better of him here as he clearly doesn't appreciate being overshadowed. I'd love to have been a fly on the wall in their cab home that night. Furthermore, I suspect tha-….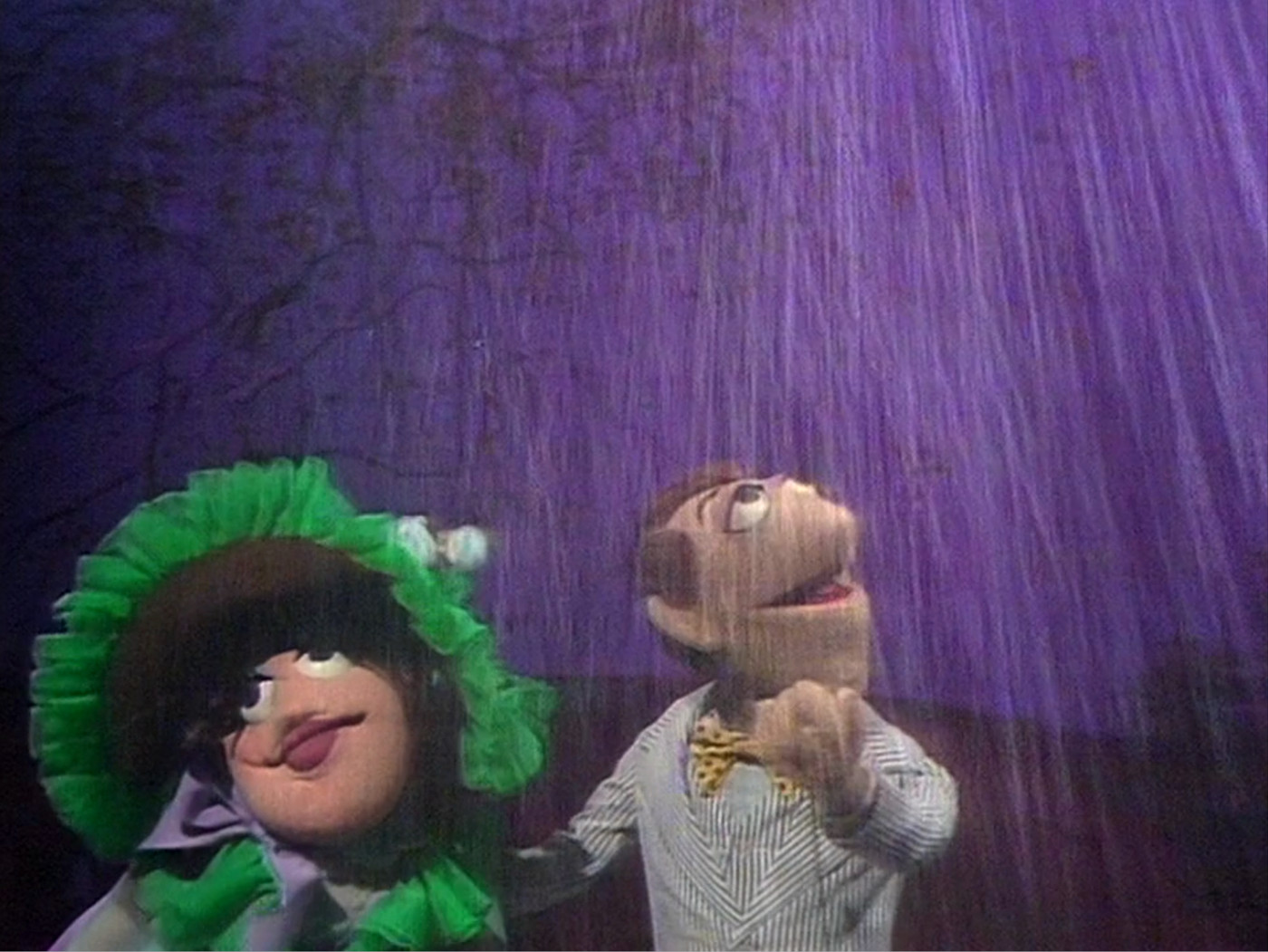 9 – Stormy Weather – Wayne & Wanda – The Muppet Show
This was Wayne and Wanda's first appearance on The Muppet Show (having been bumped for Connie Stevens the week before) so this is a good time to discuss why they were on the show at all. Each of Wayne and Wanda's performances is introduced by Sam the Eagle who heralds them as clean-cut and wholesome and the kind of act that good, self-respecting Americans should be enjoying. (Though I doubt their cover of darkness smooching in "The Muppets" is something he'd approve of!) I suspect Kermit hired them for the show in the hope that they would distract Sam's attention from some of the other "less moral" performers. However, Kermit was also the kind of frog that would give people a break and I'd like to think that he saw their talent and commitment to performing as well. As shown in this song, Wayne in particular has a very strong voice. He's obviously ha-…
8 – Let it Snow, Let it Snow, Let it Snow – Wayne & Wanda – The Muppet Show
The set for this number is fantastic. The roaring log fire and cozy cabin give a real feeling of warmth and romance to this performance. This is coming towards the end of the duo's run and it's interesting to see that in the world of the show Kermit is still prepared to spend that kind of money. Is this Sam's influence? In the new show Kermit seems to be quite happy to bow down to some of his more ridiculous demands so perhaps the bird has some Polaroids we don't know about?! For me this is one of Wanda's best vocals, she's obviously improving. I don't think it's too harsh to say that Wayne is the better singer, but Wanda is definitely a more charismatic performer. In fact, if you imagined them both as birds I think you'd agre-…
7 – Autumn Leaves – Wayne & Wanda – The Muppet Show
Although we've moved from winter to autumn, this song has a lot of similarities to the previous one. Wayne and Wanda's voices sound really sweet in this song. Often their duets are comprised of solo lines sung one after the other so I like that we get to hear them singing together here. Wayne's strong tenor and Wanda's feminine soprano compliment each other brilliantly. This is a beautiful song and their rendition is a joy to behold. The song itself was written for the French film "Les Portes de la Nuit" and Wayne and Wanda join an illustrious line up of acts including Edith Piaf, Jimmie Rodgers, Iggy Pop and Andrea Bocelli by covering it. Sam introduces the song as "inspiration time" and it's absolutely true. This song inspired me to contemplate sweeping the leaves in my garden. I contemplated it, but it didn't quite inspire me to do it! One thing is certai-…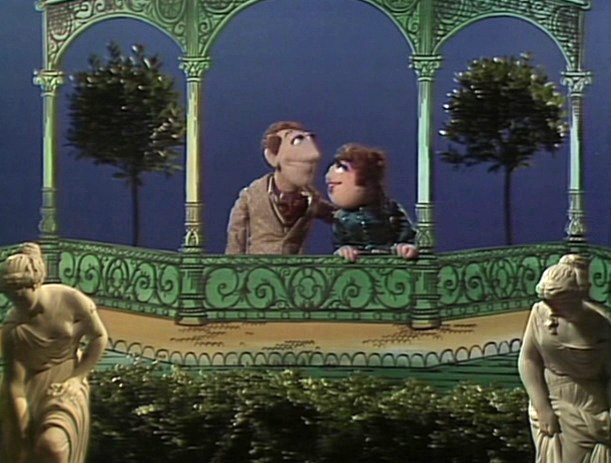 6 – I'll Know – Wayne & Wanda – The Muppet Show
This is another beautifully staged piece. The way the sky goes from dusk to night-time is incredibly pretty. As already mentioned, Wayne and Wanda are clearly in love, but Wayne's eye does start to roam during this number. Through writing and researching this top 10 I've built up a picture in my head of the couple's origins and home life which I'd like to share. Wayne was a good singer without much stage presence and was struggling to get gigs when he met Wanda. She was a chorus girl with a so-so voice, but audiences loved her. Wayne quickly realised that they could both help each other out and they started working on an act together. During this time they fell in love and being "church people" got married. They caught the eye of Sam the Eagle when they performed at an "American Songbook" revue show and he offered them work on The Muppet Show if they passed an audition – which they did. Consequently, they'd spend all week perfecting their act at home ready for the show. Through their hard work each of them learnt to be a little more like the other one. Maybe that's true; maybe it's b-…
5 – Bewitched, Bothered and Bewildered – Wayne & Wanda – The Muppet Show
What else would we expect on a show where Vincent Price is the guest star, but this bewitching number? At the risk of sounding like a broken record I have to take a moment once again to mention the set and lighting design of this song. It's exquisite. Wanda takes the lead here and I guess in amongst all of this posturing on the character's origins and motivations I really have to praise Eren Ozker who is her main performer. Eren's brief tenure with the Muppets saw her become Emmy-nominated along with the rest of the performers and producers of The Muppet Show. She was also a fine dramatic actress with a string of very weighty roles making up the bulk of her onscreen/stage credits. I still miss Transylvanian seamstress Hilda (one of Eren's other characters), and I like to think that she's currently making all of Count von Count's suits somewhere in the ether. Perhaps she's li-…
4 – Some Enchanted Evening – Wayne & Wanda – The Muppet Show
Perhaps better known as "Salmon Chanted Evening", this is actually the second time this song appears on The Muppet Show in season one as it was also sung by Bert in episode two. Wanda and Wayne always have a great music hall look to their costumes with the former's frilly dress and bonnet being particularly of that style. Here in contrast they've scrubbed up ready to enjoy a sophisticated evening out on the tiles. A surprise appearance by Gorgon Heap puts paid to that unfortunately, but either way they look as pretty/handsome as they have ever done. Wayne's shiny shoes deserve a special mention as does Wanda's fantastic reaction to Wayne's fate. This is surely the most Henson-esque of all of their performances. There's an old Chinese proverb that I'm reminded of here: "Man who trave-…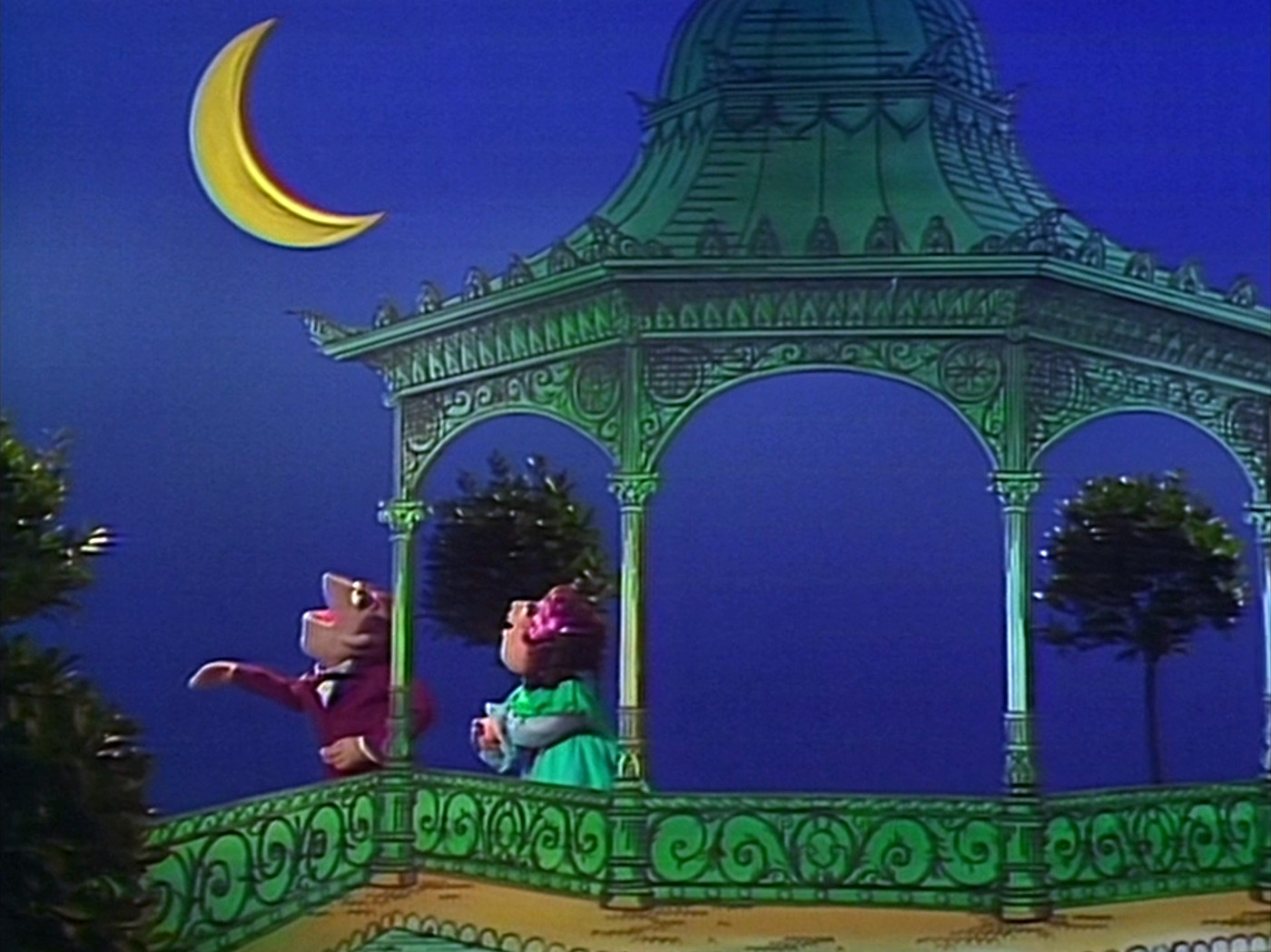 3 – It's Only a Paper Moon – Wayne & Wanda – The Muppet Show
This is unfortunately Wayne and Wanda's last performance as a duo on The Muppet Show. Kermit finally decided enough was enough after this and sacked them. I feel a little bit aggrieved at this on their behalf as there are certainly other performers such as Bunsen, The Swedish Chef and even Fozzie that have had similar runs of bad luck out on stage. I guess they were on the outside from the start with Sam as their only real champion, but still. Wayne was hired later on as a solo performer on an ad hoc basis and after being guilt tripped in season four Kermit did eventually offer them work as a duo once more. Sadly, this was short lived as the pair was quickly fired again in the same episode! I'd like to see them back for "The Muppets" in some capacity as Muppet couples are currently few and far between with Kermiggy currently a thing of the past and Camilla missing in action. I'd like to see a couple who are still together in the mix to add a new dynamic. As a polar bear once said to me "What's the use of white fur if you can't ma-…
2 – Trees – Wayne & Wanda – The Muppet Show
Thanks to its appearances on several Muppet albums this is probably Wayne and Wanda's best –known song. I like imagine that in the dark days when they weren't getting appearances on the show that the royalties from this track helped soothe the blow. After all "The Muppet Show" album was a number one smash in the UK unseating The Beatles from the top of the charts! This is my chance to shine a light on Wayne's performer, one of my favorite Muppeteers, Richard Hunt. Richard is superb as Wayne and I'm constantly astounded at his range which runs from Scooter to Sweetums. Equally as adept at this light opera/Broadway style as he is with the pop or rock songs he performs as Janice, he's a first-rate singer. I find it sad that both he and Eren passed away within 14 months of each other in the early 90s. I'd like to think that somewhere out there Wayne and are Wanda have finally been able to finish a son-…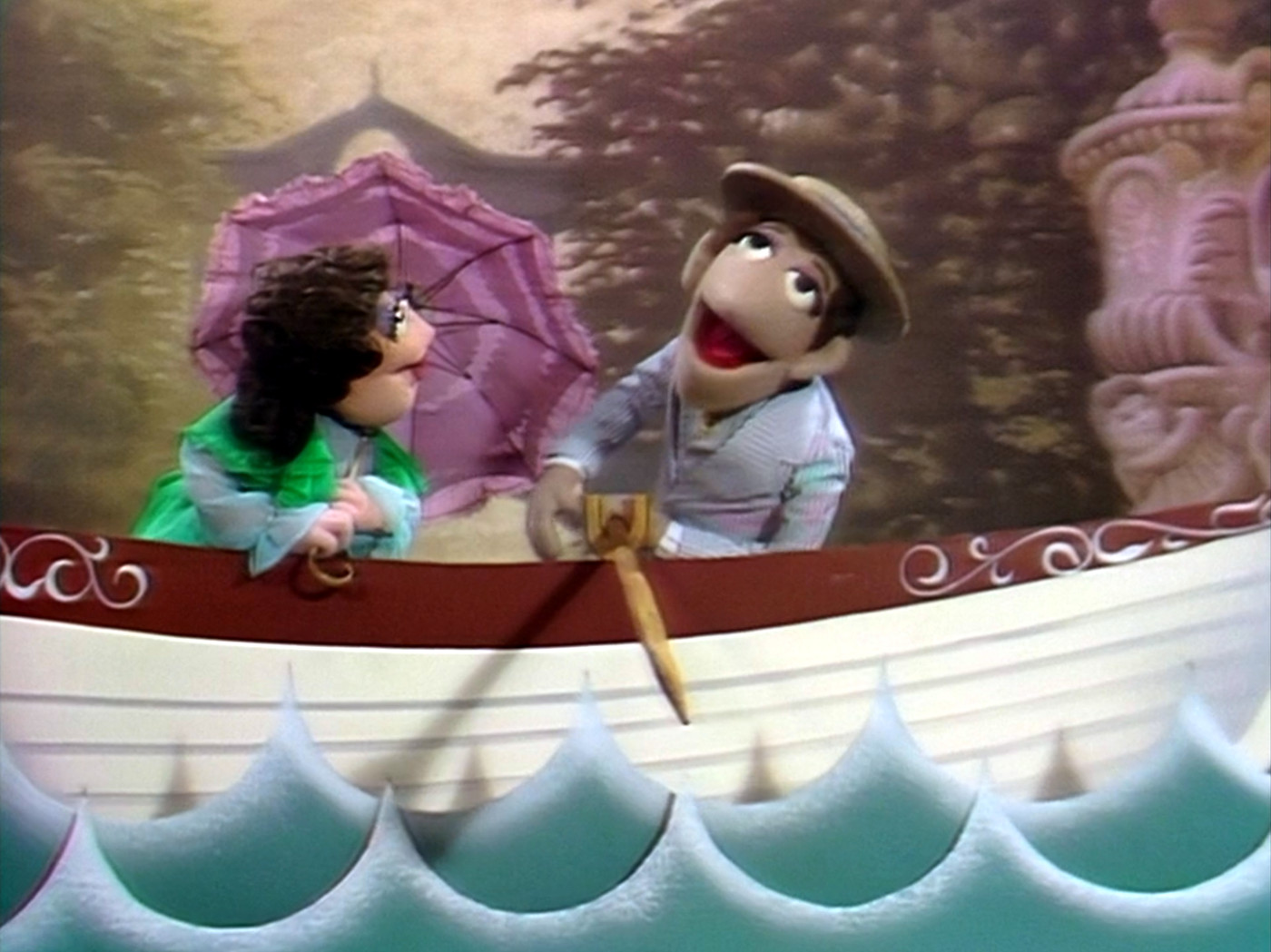 1 – Row, Row, Row – Wayne & Wanda – The Muppet Show
And that leads me nicely into this entry. I've purposely been skirting the issue of Wayne and Wanda not finishing a song because it meant I could have a little fun of my own, but it's probably their defining characteristic. I'm calling shenanigans on this though because actually very few of the incidents that kill the numbers dead were Wayne or Wanda's fault. Was it a stagehand or techie that had it in for them? Did Gonzo think they were being too avant garde and not tasteful enough? Or in a shock twist, was Sam actually the saboteur who was jealous of their love after his marriage hit the rocks? Wouldn't that be fun? I feel a fan-fiction coming on where everyone has their own reason for scuppering their act only to cancel each other out. Maybe they'll finally get to finish! This is my favorite Wayne and Wanda song not only because they actually get a decent way into the number, but also for the fact that it is a fun duet where they are clearly enjoying themselves. It makes me wish they'd made it to the end of a song just onc-…
Wayne and Wanda may never have completed a performance, but sadly I've reached the end of this chart. Perhaps more than any other character(s) Wayne and Wanda exemplify the very Muppety trait of optimism. Week after week they continued to get up stage and do what they love. I'm glad I've been able to feature them and I'd like to take this opportunity to let them know how much I appreciate the lessons they've taught me as a performer. Forget "It'll be alright on the night" for them "It'll be alright in spite of the night"! Thank you, Wayne and Wanda. Thank you from the bottom of my hear-…