Kieran Moore – Or should I say John Q. Public? After the recent revelation on "The Muppets" that Floyd is a bit of a conspiracy theory freak I'm not so sure he'll enjoy having his name and image plastered all over this website. At this rate there'll be drones over his house by nightfall! Either way, my chart this week is all about our favorite moustachioed musician – Sergeant Floyd Pepper. Floyd is the King of Cool. He even has a "room for life at the home for the chronically groovy". While Sam the Eagle is the group's moral compass, Floyd has taken it upon himself to lead the Muppets into the righteous light of the hip, hep and happening. He's a serious player (of the bass guitar, of course) and although he has a wicked sense of humor when it comes to music and melody he treats them with the reverence they so rightly deserve.
As with Dr. Teeth's chart a few weeks ago I have disqualified Electric Mayhem songs that feature the band on anything other than backing vocals. There are, however, a few classic duets that I just couldn't resist! Anyway let's get on with the countdown – after all, "there ain't nothing to it, but to do it!"
10 – Sunny – Dr. Teeth & The Electric Mayhem – The Muppet Show
Before we talk about this song I want to give a quick shout out to "Lady Be Good" which actually scored the same number of points as this song, but lost the mental coin toss I performed to pick which should get 10th place. I think one of the main reasons Sunny won out is that I just love Floyd's voice as the song speeds up. To my ear at least he starts to sound more and more like performer Jerry Nelson and it feels a little like the fourth wall has been broken. I have to say I can't blame Animal for wanting to speed this rather upbeat song up – it's deathly slow at the start. According to Wikipedia this is one of the most covered songs ever so The Electric Mayhem get to be listed right where they belong beside some musical greats like Ella Fitzgerald, Frank Sinatra and Duke Ellington.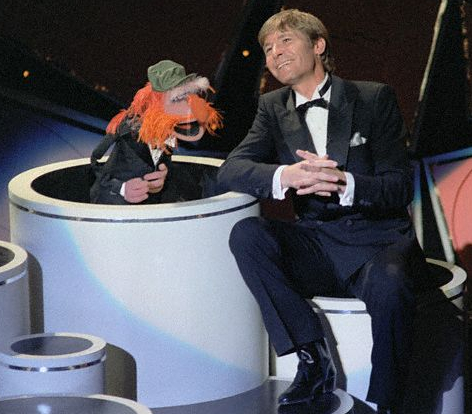 9 – Gone Fishin' – Floyd Pepper and John Denver with Zoot – Rocky Mountain Holiday with John Denver and the Muppets
I find myself a little surprised that this song only made number nine on this chart as to be honest I think everything John Denver and The Muppets did together is about the best stuff either of them ever did/will do. They just work so well together. I absolutely love this special which I first saw when a good friend of mine called Byron Summers sent me a VHS copy. I think he went by the name of something like JaniceandMokey'sMan on Muppet Central although I actually knew him better from a Disney site. I've lost touch with Byron now and the wistful, laid-back vibe of this number makes it the perfect tune to reminisce to. It makes me think of ketchup and turtle necks and "The Golden Girls" and all the other things he liked. Boy, I miss him. I guess he's "Gone Fishin'" somewhere. Byron if you're reading this, please get in touch and say "Hi".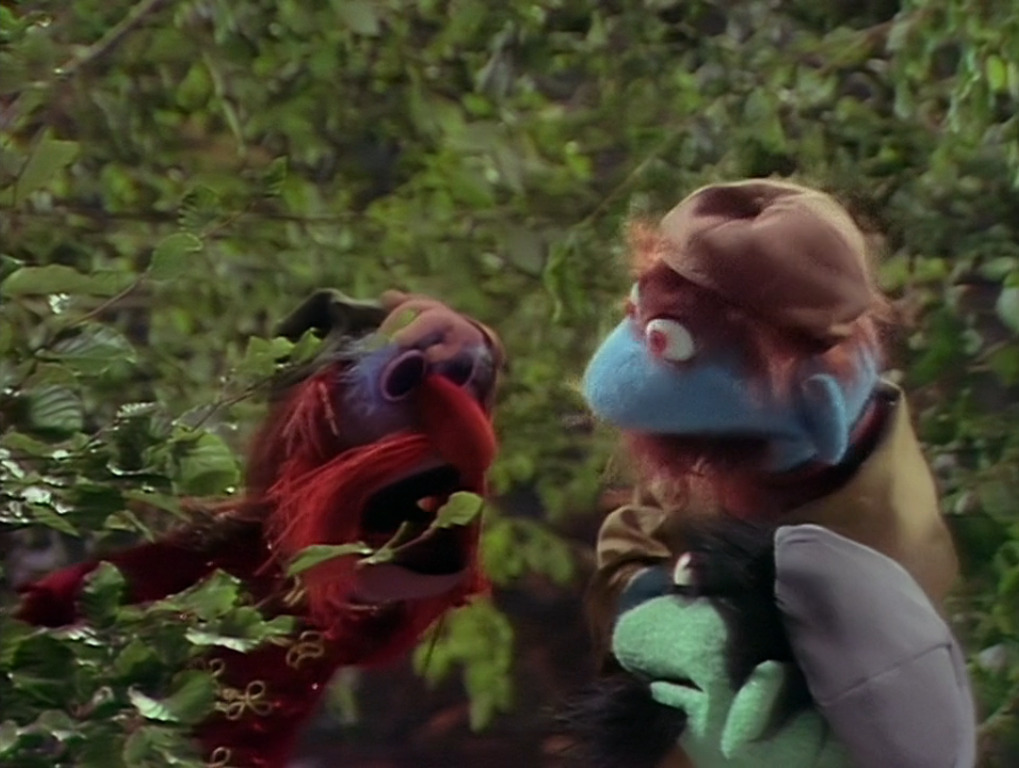 8 – Searchin' – Floyd Pepper & Whatnot Detectives – The Muppet Show
If there's something that Floyd and the rest of The Muppets seem to like doing it's performing songs by The Coasters and/or The Beatles and this was recorded by both at one stage or another. This is a little more distinct than the way Floyd usually presents his music on "The Muppet Show" as it has a slight story element. His stage appearances tend to be more along the lines of a straight performance and that makes this number instantly eye-catching and different. It's more the sort of thing I could see Scooter or Fozzie doing, but the song's musical pedigree really does lend itself to Floyd so it's fun to see him mixing it up a bit.
7 – Sam's Song – Floyd Pepper, Janice, Beauregard, Nigel, Rizzo and Sam – The Muppet Show
This works so well here that it feels like it could have been written especially for the show, but actually it dates back to 1950 and has been recorded by several "Rat Pack" crooners in the past. This was a fourth season UK spot which means it aired in 1980. I always find it interesting to think of how songs were picked for the show and in 1979 footage from the movie "Sam's Song" was edited into another film. I wonder if the media coverage of that happening put the tune into the minds of the writers? Floyd and Sam have a history together that goes right back to "The Muppet Show: Sex and Violence" and right from those early days they have had what can best be described as a love/hate relationship. They really are two sides of a coin although I'm not actually convinced it's the same coin! Of course, Sam usually ends up with egg on his face, but given the guys that are writing this stuff is it any surprise?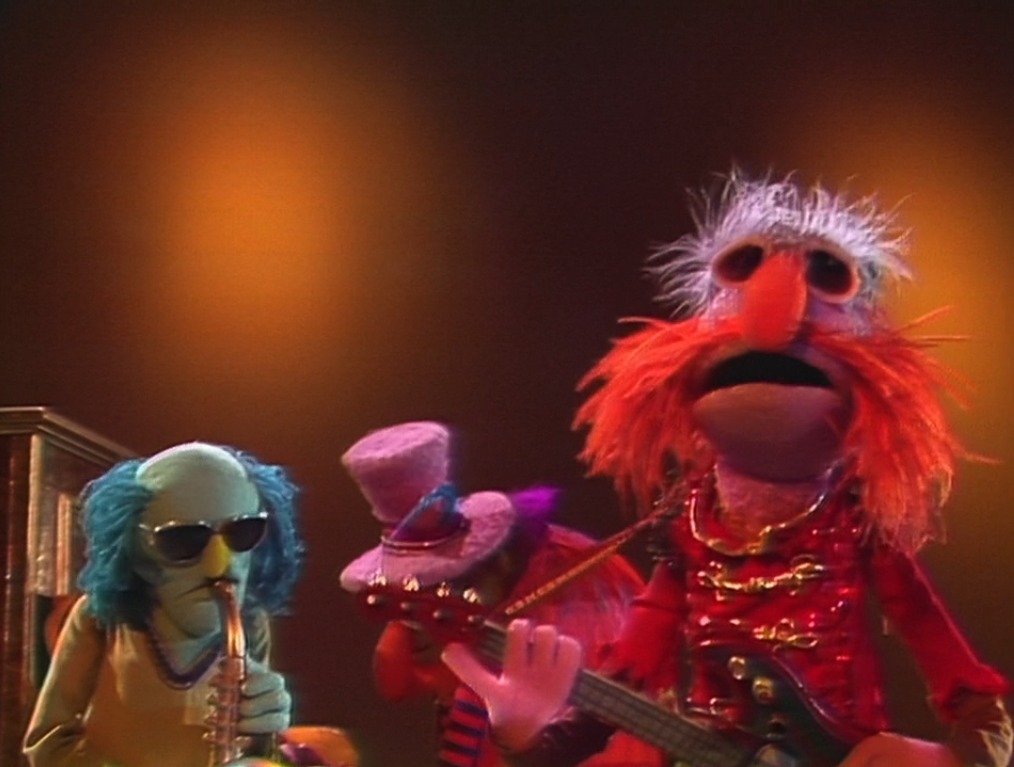 6 – New York State of Mind – Floyd Pepper, Dr. Teeth and Zoot – The Muppet Show
This is another song that I'm surprised has ended up as low as it has on this list. The top Five are all amazing though! This is a song that the Muppets seem to have a love affair with. This version was originally a UK spot and then a season later was added to an episode proper. It then appeared on the album "The Muppet Show 2" and was performed on "The Tonight Show" when Kermit hosted. Several years later it gained new Muppet life when Rowlf recorded it for his album "Ol' Brown Ears is Back". The album is stunning and I heartily recommend you listen to it on YouTube if you don't have a copy, but I'm really not sure which version of the song I prefer. Both have a wonderfully chilled out vibe and are sung brilliantly by Jerry as Floyd and Jim Henson as Rowlf. It might be too close to call. In my USA Road Trip chart, Rowlf's version came out at number three so I guess I have to give the win to him, but that smarts a little considering this is Floyd's chart. I think we'll call it a tie!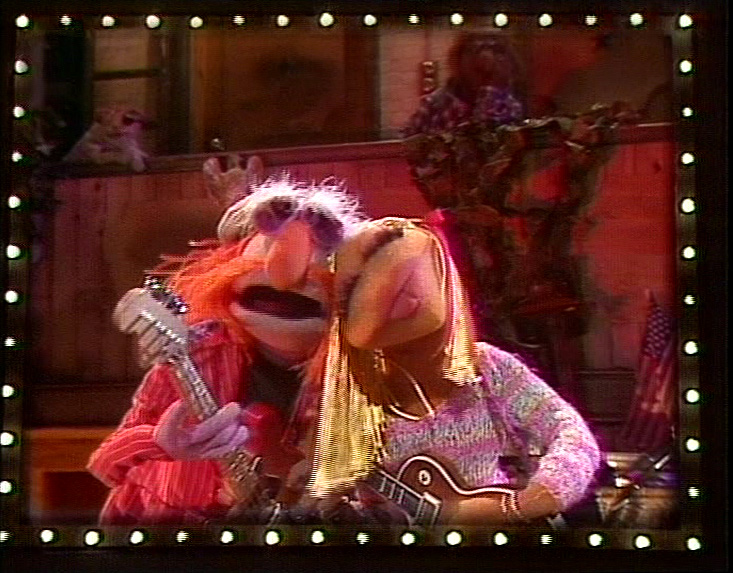 5 – Act Naturally – Floyd Pepper and Janice – The Muppets Go to the Movies
This is another Muppet song that has two very well known versions. I guess I do have to give this one to Gonzo though as I think it suits his personality more. I've never really thought of Floyd as "sad and lonely", but Gonzo has been tinged with it pretty much through his whole Muppet career. As a track once covered by The Beatles it really should come as no surprise that Floyd has covered it as well though. The influence of The Beatles is all over Floyd. Not only is his last name Pepper (a la Sergeant Pepper), he is also dressed in a similar style to how the Fab Four appear on the "Sergeant Pepper's Lonely Hearts Club Band" album cover. I wonder if it bothers Floyd that here in the UK the Muppets knocked The Beatles off the top of the album chart?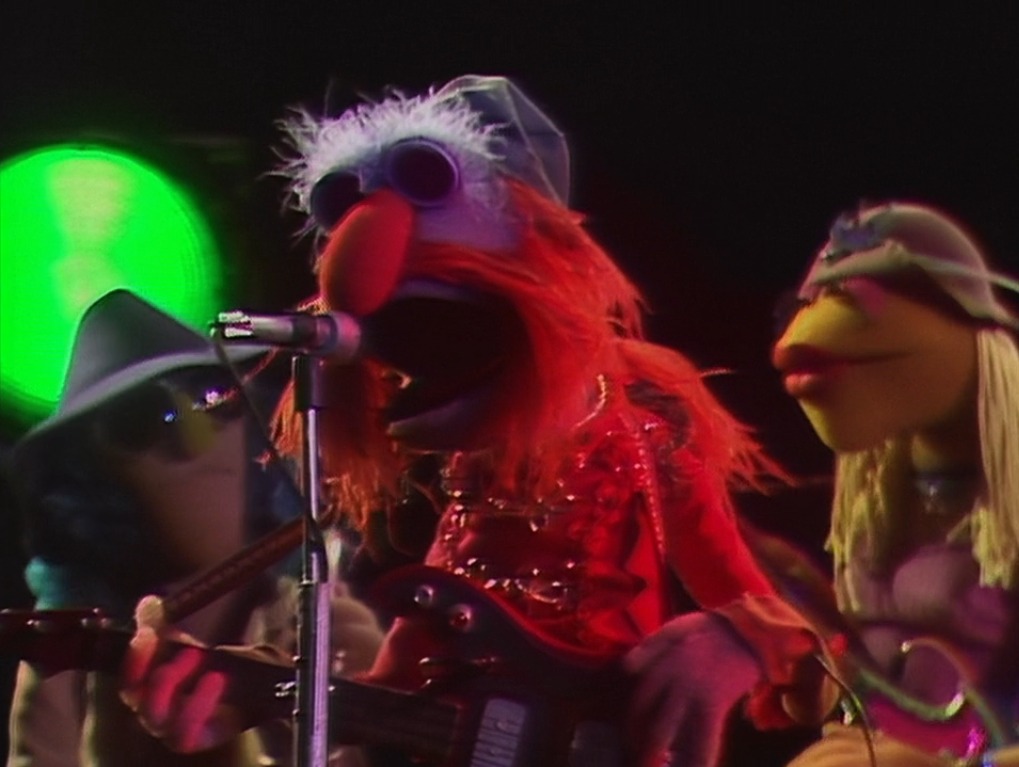 4 – Ain't Misbehavin' – Floyd Pepper, Janice and Zoot – The Muppet Show
Floyd is singing quite a bit deeper than he generally does here in this early Muppet Show episode. Although Jerry carries it off beautifully it would seem that with the notable exception of "Mr. Bassman" the gang decided to leave the bass notes to other characters in future. It's Jerry's fine voice that elevates this song up to number four to be honest. Just like "Sunny" the fact that Floyd really sounds like his performer makes me love it even more than I would do otherwise. I haven't really gushed properly about Jerry yet so I feel it's my duty to do so here. He's fantastic. He has an amazing voice and could sing the phonebook and make it the best thing I've heard all year. I think hyperbole is massively, massively, massively overused (like massively), but there aren't enough superlatives to describe Jerry Nelson. He seemed to have an affinity with Floyd and is quoted as saying "I am he-and he is me-and we are all together." That is illustrated perfectly here.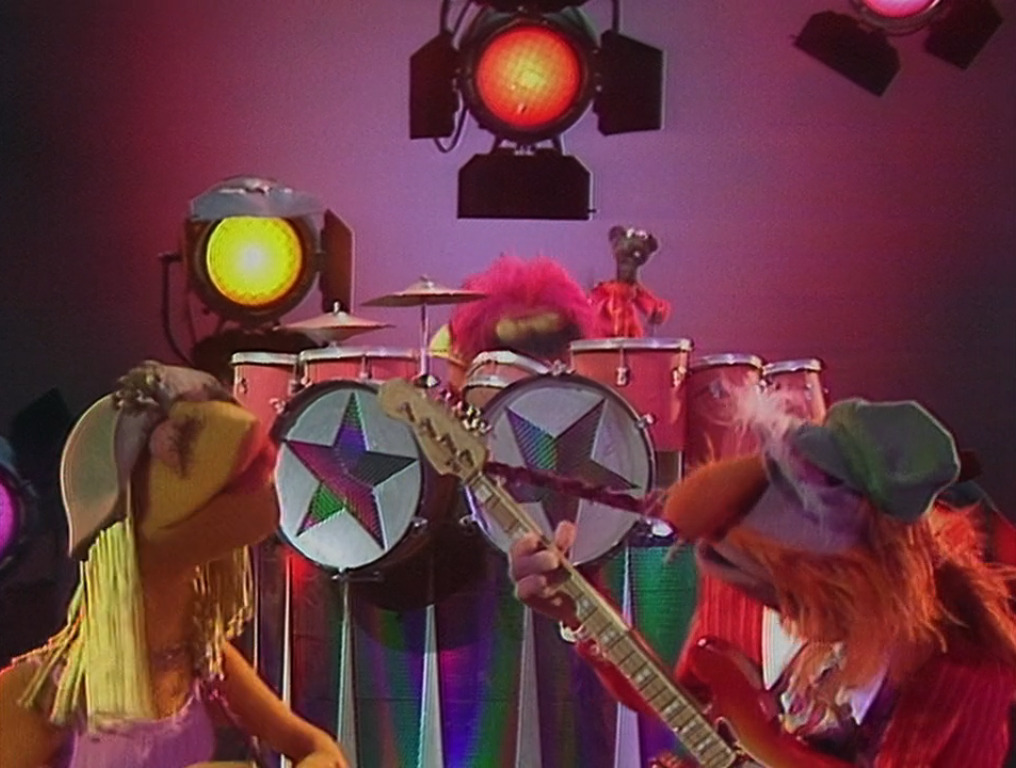 3 – 50 Ways to Leave Your Lover – Floyd Pepper and Janice with Animal and Rowlf – The Muppet Show
This is the third time this song has appeared on one of my charts, but it's such a great song there was no way I could miss it out. Apart from anything else it gives me the chance to talk about Floyd's relationship with Janice – although after this week's episode of "The Muppets" ("The Ex-Factor") I'm kind of seeing the whole thing in another light. There were always rumblings that Floyd and Janice might have had an open relationship because of her early pairings with Zoot, but it seems she might be working her way around the band. I can't recall any mention, whether direct or oblique, to a relationship with Dr. Teeth up until now, but this really makes me want to read a biography of the group. I know other fictional characters have had "autobiographies" and I think an Electric Mayhem one would make juicy reading! Jerry Nelson and Richard Hunt had such chemistry together that it makes sense for these characters to be paired up. Let's just hope it stays that way!
2 – While My Guitar Gently Weeps – Floyd Pepper – The Muppet Show
I love this song and I think Floyd's version is the best I've ever heard (and I say that as someone who recently recorded it). This is easily my favorite Floyd solo song ever (for those of you who aren't Peter Falk that means the song at number one isn't a solo!) This is a real song sung and played by a real musician. Once again, this sounds a little more like Jerry than Floyd, but again to me that only goes in its favour. This song is beautifully melancholy. It skips the more rousing choruses of the original and keeps its focus on the gentle, emotional verses. I think ultimately that's why I love this so much. It really allows the song to create an effective and affecting mood. It's also exquisitely staged – the silhouetted Muppets in the windows give a sense of loneliness making Floyd part of a faceless crowd; leaving him alone yet surrounded. This really is about him and his guitar and the music that they make and it's one of the best ever Muppet Show moments in my humble opinion.
1 – Wild Thing – Floyd Pepper, Kermit the Frog and Animal – Kermit Unpigged
I'll be honest I hummed and hawed about whether this song really counted here because of Kermit's involvement in singing some of the lead lyrics and once I decided that I really hummed and hawed about whether it should be number one and beat "While My Guitar Gently Weeps" into second place, but as this is my personal list I ultimately felt this song had to take the top spot. You see I've loved this song ever since I bought the Kermit Unpigged album over 20 years ago (I can't believe it's been that long). However the thing that really swung it for me is that this song probably appears on at least 50% of the mix tapes/CDs that I've created ever since I first heard it. It's accompanied me on countless road trips and is part of the soundtrack to my life. It's easily the best track on the album as far as I'm concerned. I love Kermit's easy going acoustic version (in fact I'd love to hear him get all the way through at some point), but the whole thing just comes alive once Floyd and Animal join in. It's raucous yet mellow, rocking yet soulful, funny yet earnest. In fact it's a bit like the great man (Floyd) himself!
Floyd might just be the perfect Muppet. He's a born performer. He's also infinitely musical (as all the best Muppets are) and his sarcastic side is happy to prick the cutesy bubble when things get too saccharine sweet – a trait Jim Henson would be proud of. I get the feeling that in spite of the way he acts he really does value the friendship the Muppets offer and considers himself an important member of the team. Although he'd like to appear on the fringes I think he knows his sense of inbuilt coolness means that he's more important than some others might realise. I'd like to thanks Floyd's various performers over the years – Jerry Nelson, John Kennedy and Matt Vogel – for their work with the character and I'd also like to thank Floyd for being a compass of cool. For a moral dilemma I might ask "What would Kermit do?", but if I want to make sure I don't look like a dork on a regular basis the question really should be "What would Floyd do?" It's a mantra I think I need to use more often…