Michael Wermuth Jnr – 
Bedtime Stories and Songs is a Sesame Street video from 1986, themed around segments relating to bedtime. The linking footage involves Big Bird getting ready for bed, only to be joined by Telly Monster, whom Big Bird invited for a sleep-over, and ends up bringing a lot of stuffed animals that can't "sleep" without another stuffed animal (and the last one can't sleep without Telly). There's also an amusing scene where Buster and Susan discuss the fact that horses sleep standing up. Not much to the linking plot, but that's okay, I'm usually more interested in the clips provided.
And there are a lot of great segments. The video is bookended by two Ernie and Bert segments, "Dance Myself to Sleep" and "Imagination". There's also The Count counting sheep, but unfortunately, it cuts out all the parts with Ernie and Bert (I guess it's not so unfortunate to those scared by Ernie's sleep-deprived appearance in part 2). Cookie Monster sings "If Moon Were Cookie",

Grover imagines he's on the moon, Snuffy teaches Gordon "The Snuffle Lullaby", we get the classic song "Everybody Sleeps", and Maria reads a bedtime story, "The King's Problem", which is technically the only story featured in this (and the story doesn't even involve sleep). It would have been great if it featured one of Kermit's two news reports on Sleeping Beauty, or one of his two reports related to "The Princess and the Pea".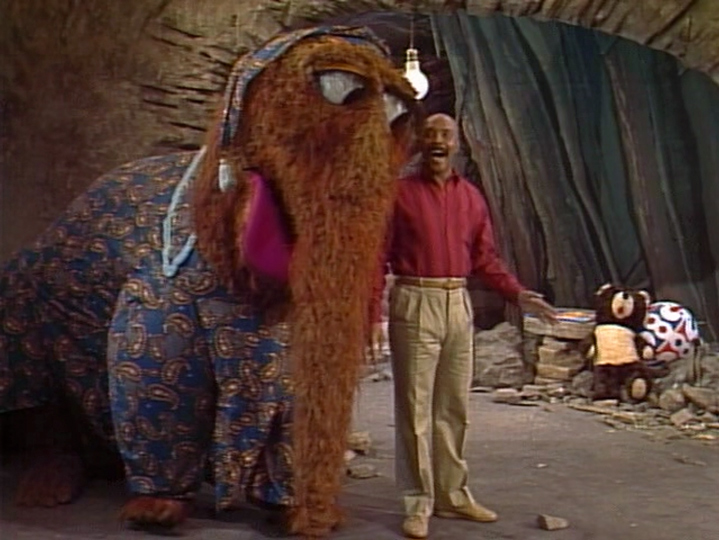 For some reason, this is the only Sesame Street video that was altered when it was rereleased by Sony Wonder (though the "My Sesame Street Home Video" and "Sesame Songs" were cut from many rereleases). It's rerelease is titled Sleepytime Songs and Stories, and replaces a few segments. I wonder why this one video was re-edited while other ones weren't. I could see replacing "The King's Problem" because Maria looked a lot younger, though other older videos where cast members looked a bit different remained in print without changing anything, and I can see replacing "Everybody Sleeps" with reshot footage that was being used at the time, but why replace the Grover skit?
Bedtime Stories and Songs is one of the first Sesame Street videos that I've owned, and it is a good release!